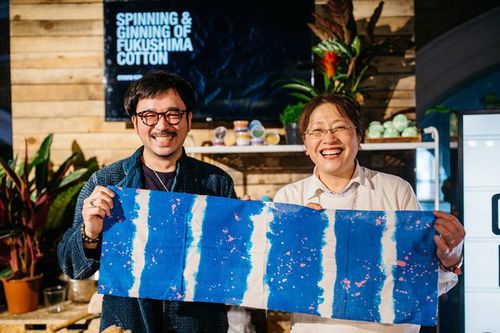 Copyright 2018 Iwaki Otento SUN Enterprise Cooperative All Rights Reserved.
Tohoku Fukko Nikki (Tohoku Reconstruction Diary), a weekly feature in the Tokyo Shimbun newspaper, delivers news stories on reconstruction efforts in communities devastated by the earthquake and tsunami that struck Japan in March 2011. The articles are written by the JKSK Yui-Yui Project, an initiative to support survivors of the 2011 disaster. Here, we present an article reporting the activities of the Fukushima Organic Cotton Project, whose products are building a growing customer base worldwide.
Invited by Lush, a British cosmetic manufacturer and retailer that sells our product, Fukushima Organic Cotton cloth, we members of Fukushima Organic Cotton Project traveled to London to attend the company's Lush Summit in mid-February 2018.
The summit was an exhibition open to interested businesses and the general public, and there we talked with many people. One person commented: "We get so little information about Fukushima in the UK, so it's great to hear your story. We really hope your project will help people in Fukushima get back on their feet after the nuclear accident."
The summit offered talk events and other programs on issues including the environment, resources, and human rights, which stimulated participants to think about future actions.
One thing we realized at the summit was that, ultimately, it is only the accumulation of individual choices that makes the world a better place. We also realized that Fukushima organic cotton and Fukushima-SIOME brand products could be among those choices.
Our relationship with Lush Japan started in 2015, when they agreed to use our cloth for their product Knot Wrap (square cloth for wrapping). The product was launched globally in 2017, which was our dream come true.
This month, Lush UK launched sales of a Japanese-style washcloth as part of its Knot-Wrap lineup. The decision serves as a recognition of our careful work and the superior functionality of our Japanese-style washcloth, and of Japanese culture. It brings us joy just imagining our products being used by many people around the world.
The spring of 2018 marks seven years since the Fukushima Organic Cotton Project started. We want to take our achievements to the next level this year. With the weight of responsibility but even more a sense of positive excitement, we have the feeling we're about to take a big step forward.
Yuta Sakai
Director of Organic Cotton Division
Iwaki Otento SUN Enterprise Cooperative