JFS Newsletter No.172 (December 2016)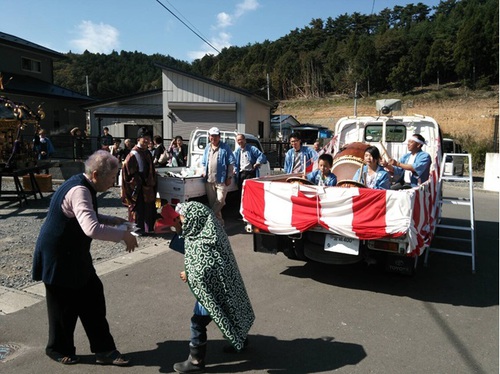 Copyright The Third Stage All Rights Reserved.
In the November 2016 issue of the JFS Newsletter, we reported on the situation of Ishinomoki immediately after the disaster of the Great East Japan Earthquake (which struck on March 11, 2011) and the Hamayu project, which started from support activities on the Oshika Peninsula by a group called The Third Stage. That article was based on an interview with Tatsuya Sugiura, who launched the volunteer group to support reconstruction efforts for disaster survivors in the town of Ishinomaki. This month, we continue with the latter part of that interview by reporting on other projects on the peninsula and on the launch of The Third Stage.
Disaster-Affected Ishinomaki -- Present Status (Part 1)
http://www.japanfs.org/en/news/archives/news_id035699.html
---
Hamakon Project
The Hamakon project started in response to a request from fathers, mothers, grandfathers and grandmothers in the coastal communities. They said "Mr. Sugiura, we really thank you for your support. We have one final request for you. Could you help our sons and grandsons find brides?"
We had heard that some fishermen in coastal communities wanted to encounter someone who could be their future brides. Finding a bride is a common problem for men in these communities. So we planned events to meet women from outside the communities. We imagined that such events might lead to more new brides for coastal communities, and more children being born, which would produce more successors for the fishermen, and in the future a bigger population. This is why we organized these "Hamakon" matchmaking events twice, once in 2013 and once in 2014. ("Hama" indicates "beach" or "coastal community" and "kon" indicates "marriage.")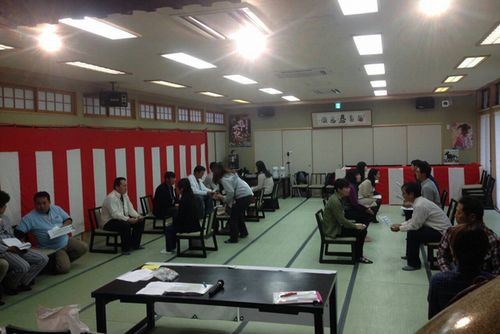 Copyright The Third Stage All Rights Reserved.
Hamakon has resulted in one couple getting married. The other day they announced the birth of a baby, and we are planning a party to celebrate.
Many fishermen were too shy and lacked opportunities to meet woman on their own. Hamakon helped to increase the number of men who are active in finding a bride. The events led not only to actual marriage but also to positive attitudes and their own efforts to find a marriage partner. I could say that our project has changed people's attitudes.
I think those who are not good at communication are often those who do not know themselves well. They are not good at keeping a conversation going and seldom fall in love. So we started with encouraging them to write their own profiles and ask themselves "What are my interests?" or "What kind of person am I?" We encouraged them to know themselves well, including their interests, strengths and weaknesses.
This makes it easier to find a topic of conversation, whether it be driving or listening to music, or whatever. As they know themselves better, they find it easier to express themselves.
One of them said his hobby was playing Pachinko (which has been described as a "vertical pinball" game). I jokingly suggested that he should describe it as a ball game (laughter), but at any rate, the process gradually increased the topics of conversation.
Launching "The Third Stage"
Among the Japan Emergency NGO (JEN) projects, the Oshika Peninsula ("Oshika Hanto" in Japanese) project was one of the last ones left operating. There was still a lot of work left to do, but JEN's Ishinomaki office was closed at the end of October 2015, as JEN was intended to deal with emergency assistance.
At this stage, my colleague Arai and I talked a lot about our future plans: "What are we able to do?" "What do we want to do first?" "Between what we are able to do and what we want to do, what makes the most sense and fits in best with our objectives?"
We strongly wanted to set the stage for people to be motivated to get involved in finding or creating places where they feel safe and secure. So we launched a group called "The Third Stage."
As we saw it, at the first stage, they had life before the earthquake disaster; at the second stage, they had difficult life after the disaster. That was the basis of our idea of establishing The Third Stage as a general incorporated association (legally-registered society in Japan), hoping that people would take a passionate step forward together and initiate change with us at the third stage.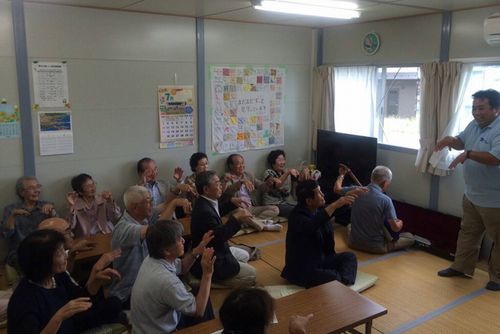 Copyright The Third Stage All Rights Reserved.
We launched the group on January 20, 2016. The date is my late mother's birthday. When we talked about starting in January, I was selfish to choose that date.
We now have two main projects. One is the independent living support project. Involved with disaster survivors in temporary housing and at their homes in Ishinomaki City, we work under contract to support their independent living. The other one is the Oshika Peninsula project. It includes the activities on the Oshika Peninsula such as "Yorain Oshika" (Drop In Oshika), "Oshika Peninsula Network Committee" and "Let's Go to the Beach !" (i.e., to the coastal community).
Independent Living Support Project
We are working on the Independent Living Support Project in an effort to stay close to people who cannot move on to the next step, and encourage them to think about the future. That's why we now focus on people living in temporary housing.
In Ishinomaki, there are still many difficulties and delays in reconstruction. It would be crucially important for disaster survivors to move from temporary housing and start more independent living as a big step toward the next stage. While supporting these people, we decided to establish The Third Stage.
We are working with people who are now living in temporary dwellings, specifically, those who have not yet made future plans. With temporary houses now being consolidated, these people eventually have to move somewhere else to live, so they need to start thinking about where to go, what to do there, what work to do, and so on. But many still face obstacles in planning for the future, so we are helping them identify the obstacles.
Some say, "I don't know what to do." In such cases, we show them specific means and systems that they can use, or encourage them to go with us to public service offices. This gives them a chance to consider their future.
Others say, "I'll think about it later." We tell them, "It's better to prepare now for the future." They should at least recognize the need for future plans.
There are also people who won't listen to us, or with whom we have trouble getting in touch. However, we always think about communication, based on our experience doing needs surveys and assessment surveys in temporary housing facilities, as well as our job experience involving human interactions.
If we can talk with someone for one minute, we can continue talking for 10 minutes. The first one minute is important. Thus, we create the atmosphere and attitude which make the person feel comfortable to talk, while putting out our antenna. When we receive an answer, we carefully grasp what he or she is saying, and move the conversation forward. This is an effective way to elicit a story from someone.
When we say goodbye to someone, we always use our special closing line --- "We will visit you again. Never forget our faces and well-fed bodies!" (We are rather large in size.) This makes people smile and say "I won't."
Saying goodbye with a smile will have a positive effect on the next meeting. People will smile at us, saying "You are here again!" or "Oh, you are the one I met the other day." We don't ask them to remember our names; we just ask to remember our faces and physiques. The body type, one of our characteristics, is our business tool (laughter).
Basically, we are working on the Independent Living Support Project on weekdays, and the Oshika Peninsula Project on weekends. The activities on the Oshika Peninsula area are being conducted through various organizations and networks.
Yorain Oshika ("Drop In Oshika" in the local dialect)
The Yorain Oshika project is an organization for mutual assistance among local residents. I am involved with the organization as a board member (youth group manager). The organization has over 80 members including the representative and deputy representative who are from the generation of our parents. Being a generation between our parents and children, I strive for improving activities. As a board member, I participate in the meetings and promote interaction by connecting the organization with those in other areas and projects.
Yorain Oshika holds events such as ochakko-kai tea gatherings and bus tours in its social activities organized by the fureai (interaction) working group. The tasukeai (mutual assistance) working group promotes activities of people helping each other in need, for example with mowing grass, taking out garbage, or accompanying someone on doctor visits.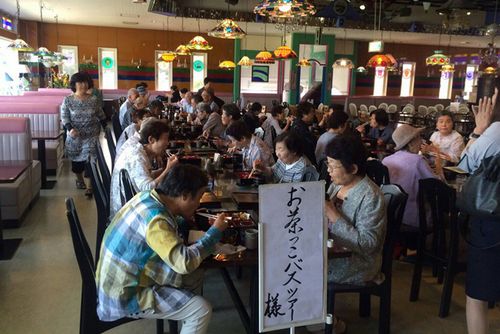 Copyright The Third Stage All Rights Reserved.
It is not about just giving. We are neighbors who co-create a comfortable community. We help each other, learn from one another and grow together. We share various ideas and capabilities, accommodate a comfortable place in which people appreciate each other, and enhance our valuable local resources.
Oshika Peninsula Network Council
I am the representative and chairperson of the Oshika Peninsula Network Council. The council has over 30 institutional members, including municipalities, companies, organizations, police departments and so on, that have connections with Oshika Peninsula communities. We can learn from each other as equal partners by discussing common issues on the peninsula and challenges facing participants. We can share what other people close to us are doing and discuss what can be done together or with help, maximizing the abilities of each participant. All of us love Oshika Peninsula. So we think together and work together for the communities of the Oshika Peninsula.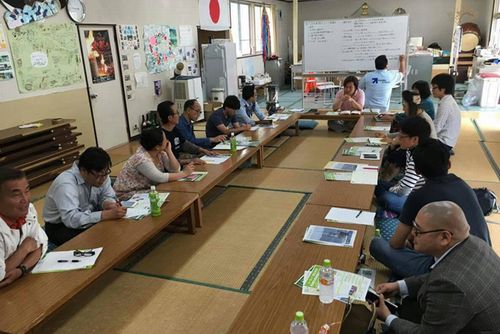 Copyright The Third Stage All Rights Reserved.
Some new organizations that did not have any previous connection in the Oshika Peninsula have been able to get to know people by participating in the meetings. Nowadays we see more and more activities jointly conducted by members who initially made connections at the council meetings. One of the common issues is cleaning up Prefectural Road Route 2 on the Oshika Peninsula. A total of seven clean-up events were held to pick up litter.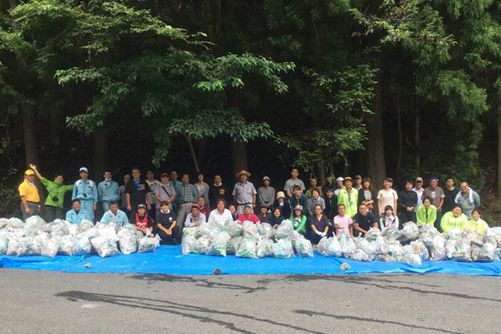 Copyright The Third Stage All Rights Reserved.
This activity was also started by the two of us -- my partner Arai and me -- and now 70 to 90 people join us. We work together to deal with issues for building communities where people can lead secure lives.
Let's go to the beach!
The Hama e iko (meaning, "Let's go to the beach!") project is a new project that was started to offer opportunities to interact and exchange views for building a community for the future. The project is based on the local people's wishes to convey their gratitude to people who have given a helping hand in various ways, such as support and volunteering from all over the country when the earthquake occurred, and to keep on interacting with many more people. It is a place to talk deeply about many topics, such as the attractiveness of working in the fisheries, the resources of the Oshika Peninsula including the local people and the natural environment in spring, summer, fall, and winter, as well as the recovery.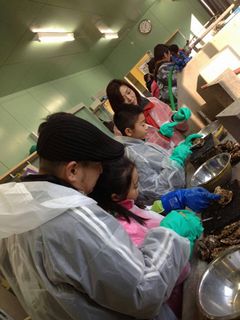 Copyright The Third Stage
All Rights Reserved.
The Oshika Peninsula, located on the eastern edge of Ishinomaki City, consists of a sawtooth coastline, surrounded by many small and big islets. It juts out into the sea -- one of the world's three major fisheries, where the Kuroshio Current and the Oyashio (or Kurile) Current meet -- and so it has a catch of a variety of fish and shellfish throughout a year. In such an environment abundant in nature, we have conducted our project 20 times so far, hoping to offer opportunities to interact with local people and experience their jobs and lives, so the participants can see, hear, and feel many things, then talk about it and have a warm feeling through connecting with people.
We have organized such opportunities many times, hoping that local residents could run it themselves as their own project. On the other hand, by the effort of the local people, they have returned to their former, busy lives, which has made it difficult for them to organize the events on their own. So now we have joined them and work together.
As the first year to operate The Third Stage, this year we are engaged in our activities with three main aims (listed below), focused on receiving educational tours including the theme of disaster prevention education, targeting mainly businesses and schools. This is the first attempt in Ishinomaki City, under the idea of "Let's go the beach in the Oshika Peninsula to learn from the community power that has overcome the disaster!"
Experience good living on the Oshika Peninsula with its resources of people, food, and nature; reconsider how we tend to take things for granted in everyday life; understand the preciousness of life and things around us; and foster a sense of gratitude.
Learn the importance of fellowship and the strength of teams based on community power that has developed from mutual aid and public assistance in the process of overcoming a disaster; develop an awareness that working as a team can make the most of each individual.
On the Oshika Peninsula (which was closest to the epicenter of the Great East Japan Earthquake), learn about earthquakes and disasters, think about disaster prevention, develop an awareness of your own roles and actions, and build your ability to make your own choices.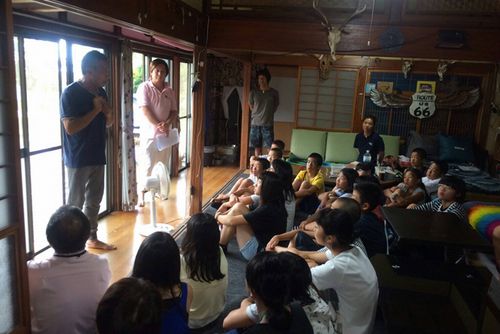 Copyright The Third Stage All Rights Reserved.
We would like to start accepting the general public in the next year.
Concluding Message
People had worries about the future of their own communities even before the earthquake, and the same kinds of concerns exist after the earthquake. With as many people as possible, including those living in temporary housing and on the Oshika Peninsula, we want to continue to move ahead together to help people find or create a places where they feel safe and secure, at home, in the community, at work, at school, and in their own lives.
I deeply appreciate that, after the Great East Japan Earthquake, many people came here from other prefectures and places, working as volunteers and creating many opportunities. To make good use of those opportunities together, I strongly believe that we need to work with local people, and this is what we actually do.
Years ago, I felt no attraction to Ishinomaki, so I left for Tokyo. I thought I would find a good life for myself there. But later, I returned to my home town of Ishinomaki with the idea that I wanted to make it more attractive, or perhaps I had simply failed to discover its charms. Then the earthquake happened. Now, having experienced the earthquake and also because of my own realization that it was up to me to discover the appeal of the place, I feel strongly that I want to create opportunities to move people's hearts, and during the process, to work with the local community to discover the attractions of the place.
Junko Edahiro (Chief Executive of Japan for Sustainability ), who I consider to be like a big sister and who so kindly introduced us in this article, gave us advice and delicious food during the emergency assistance activities immediately after the earthquake. But even more than that, she offered me an opportunity by getting me out of Ishinomaki for a training. I had been so busy and overwhelmed just after the earthquake. I was running hard and couldn't stop. My mind was filled with so many thoughts every day. But the training was the first time after the earthquake for me to spend some time in a place that didn't have the rubble and smell of a disaster.
During the training, however, it was very hard to concentrate on any lecture or task because I couldn't think of anything other than the earthquake at that time. Ms. Edahiro noticed my situation and calmly told me, "It's okay not to think about anything." Hearing those words, I burst into tears, but somehow felt relieved. I had thought that I no right to feel such emotion, because many people were in a tougher situation than me.
During that training, I was moved and started to talk about things that I had kept inside, unwilling or unable to express to disaster survivors at home. But I wanted to tell others and I wanted others to feel these things. Since that day, my heart could move on to the next stage. I am very grateful for that.
I appreciate your kind support for our project as we go into the future.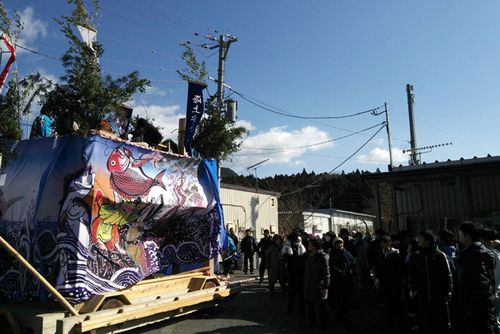 Copyright The Third Stage All Rights Reserved.
Edited by Junko Edahiro