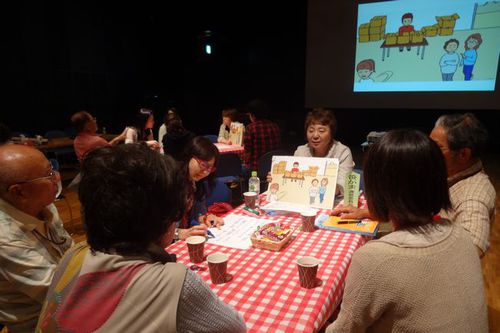 Copyright Sendai Disaster Risk Reduction Project Team All Rights Reserved.
The JKSK Yui-Yui Project, an initiative to support people in Japan who were affected by the 2011 earthquake and tsunami, has been publishing a series of articles on reconstruction efforts called the "Tohoku Reconstruction Diary" in the Tokyo Shimbun Newspaper. The Yui-Yui Project was launched by JKSK Empowering Women Empowering Society, a certified non-profit organization. The following is a translation of an article, published June 27, 2014, about the challenges of operating an evacuation center as a place to live.
The disaster continues to stir up complex emotions in us all. Our memories are still very clear, as if it happened yesterday, and we cannot help when talking about our experience but shed tears and hug those close to us.
The Sendai Disaster Risk Reduction Project Team is a group formed by us, members of the public who participated in a workshop in June 2013 on community-level disaster risk reduction from the women's perspective, and staff of the SENDAI Gender Equal Opportunity Foundation.
Together, we created a disaster risk reduction workshop program in which participants experience a simulated evacuation center operation from the viewpoint of living conditions for women, disabled people, the elderly, and other people with difficulties. It took three months for the 11 project members to develop the program, which, through interviews with people living in temporary housing, incorporates actual experiences. So far the workshop has been held 11 times, mainly in Sendai, with the number of the participants, ranging in age from children to adults, being about 240 in total.
In one workshop, for example, we took up a case in which men complained of being unable to sleep because of crying babies. Through the discussion, there were proposals from mother participants that it would be helpful to set up an isolated space somewhere in the evacuation center where they could relax with their babies, since they were under a great deal of stress themselves, or to set up a space where anyone can relax by receiving hand massage or other treatment.
In the 7th sit-in-a-circle-style meeting held in May, participants from the Tokyo metropolitan area commented that they learned and experienced for the first time citizens taking their own initiative in operating an evacuation facility.
What we have learned through our workshop is that the long-term involvement of various people in discussions and other community-building activities is extremely important for developing a diversity-conscious community, not just in evacuation facilities but in everyday life during ordinary times.
The slogan of our workshop, "Learn about disaster prevention from Tohoku" expresses our desire to end sorrow and suffering everywhere after the disaster in Tohoku, and to not let our experience with the disaster go to waste.
We hope our workshop project will be of help for the reconstruction of Tohoku and for disaster prevention in other potential disaster areas.
Mika Mano, Sendai Disaster Risk Reduction Project team member