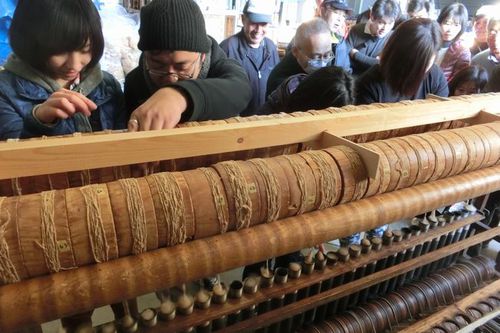 Copyright yohdesign All Rights Reserved.
Tohoku Fukko Nikki (Tohoku Reconstruction Diary) is a weekly article which appears in an Eastern Japan newspaper called the Tokyo Shimbun, and delivers news and stories on reconstruction efforts in the areas devastated by the 2011 Great East Japan Earthquake. The series of articles is submitted by JKSK Empowering Women Empowering Society, a certified non-profit organization, about an initiative dubbed the "Yui-Yui Project," which supports victims of the earthquake. This time, JFS will introduce an article published on May 23, 2014, featuring an agricultural revitalization initiative.
The Fukushima Organic Cotton Project started its third year of cultivation in its cotton fields, and like previous years, many volunteers are coming to help with the work each weekend. There are many repeat volunteers, some of whom are enjoying reunions with one another in the cotton fields. Fields cultivated in 2014 will add up to 22 locations (approximately two hectares), including locations in Iwaki City and Hirono Town, both in Fukushima Prefecture. Four farmers have now obtained organic certifications for their fields, and the project has been making steady progress toward obtaining certification for organic cotton production.
This year, JKSK is arranging four volunteer bus tours to bring volunteers to work, including a seeding activity on June 1, weeding in the summer, and harvesting in the fall. In addition to working in the cotton fields, the tours will include a visit to see part of the process of producing cotton fiber, and a workshop to experience cotton spinning using a spinning wheel.
This Japanese-cotton project was started to revitalize agriculture in the Fukushima region after the earthquake, and aims to keep the production processes local, from the cultivation and processing of raw materials to the sales of products, in order to create a small but stable industry. I am involved in the project, as both a volunteer in the fields and as a product designer.
A garabo spinning machine, acquired at the end of 2013 and currently undergoing maintenance, will be used to make thread from raw cotton processed by ginning and carding machines that are already in operation. Though electrically powered, the garabo spinning machine appears a bit retro with its wooden frame, and in fact it was made in the early Showa era (around 1925 to 1940). This vintage Japanese-made machine is good at spinning short-fiber cotton, a characteristic of Japanese cotton, and it can spin even very short cotton fibers that current western-style spinning machines cannot accommodate. Some cotton to be harvested this year will be spun into thread by this garabo spinning machine, and then woven and made into products.
Recently, we had a limited-time-only sale in the Mitsukoshi Department Store in Nihonbashi, Tokyo. During the sales event, many people visited our shop to check out our cotton T-shirts and other products, and our cotton products sold very well. The shop boasted a sign enthusiastically stating "FUKUSHIMA COTTON," without the words "disaster-relief." In reality, the situation in Fukushima is still far from returning to normal after the nuclear accident, and will take much more time and hard work. I feel, however, that this organic cotton project has moved beyond just garnering disaster-relief attention, meaning that the true value of the products is being evaluated as is.
Yoko Ito, yohdesign representative