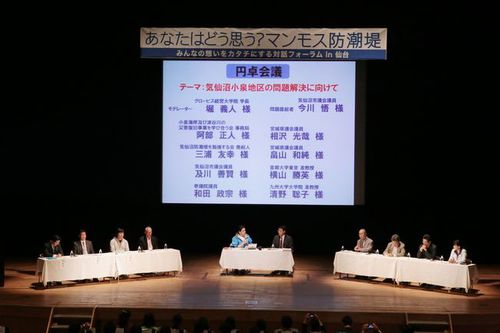 Copyright JKSK Yui-Yui Project All Rights Reserved.
Tohoku Fukko Nikki (Tohoku Reconstruction Diary) is a weekly article which appears in an Eastern Japan newspaper called the Tokyo Shimbun, and delivers news and stories on reconstruction efforts in the areas devastated by the 2011 Great East Japan Earthquake. The series of articles is submitted by JKSK Empowering Women Empowering Society, a certified non-profit organization, about an initiative dubbed the "Yui-Yui Project," which supports victims of the earthquake. We present here an article published on June 6, 2014, featuring consensus building efforts.
With little discussion after the Great East Japan Earthquake, the plan to build a coastal levee has become a done deal, which, if built, would be a giant wall rising up to as high as 15 meters and stretching over 400 kilometers along the Sanriku coastline. But with first lady Akie Abe as its chief promoter, a discussion forum was held on May 24, 2014 in Sendai to review the 1 trillion yen (approximately US$8.3 billion) plan. Approximately 400 people, mostly from local Miyagi prefecture, turned up for the discussion forum entitled "What do you think about the giant levee?"
Indeed, it was not a typical anti-construction rally, but a discussion where different opinions on different issues were brought up to recognize the necessity of thorough consensus based on better mutual understanding.
In the first part of the forum, participants watched video clips of speeches of Prime Minister Shinzo Abe, Governor Yoshihiro Murai of Miyagi Prefecture and former Governor Hiroya Masuda of Iwate Prefecture. Architects and local youngsters presented their alternative plans, and lawmakers addressed issues on the legal and institutional aspects of the project. Among the many opinions expressed, remarks by the former governor Masuda got to the bottom of the issue: "What on earth will the levee protect if there will be nobody living in the area?"
In the second part of the forum, participants shared other examples of public works to gain insights into consensus building, including a controversial estuary barrage at Yoshino River in Tokushima Prefecture that led to a local referendum, and a lawsuit seeking injunction on landfill and bridge projects in Tomonoura Bay in Fukuyama City, Hiroshima Prefecture.
Now that 22 billion yen (approximately US$183 million) is being poured into the Koizumi district of Kesennuma City to relocate its entire residential area to higher ground, discussion in the third part of the forum revolved around the planned levee, which is supposed to protect the very area that is being relocated. National and local agencies, city council members, residents and academics joined in a round table discussion led by a third party.
At the end of the forum, participants were asked to answer two questions via real-time survey system. Asked whether the consensus building was adequate, 84% said that there should be more discussion, and when asked about the consensus building process, 85% acknowledged that a third party should be involved to ensure full satisfaction of all stakeholders. Consensus may not come fast, but it is about our society over the next 50 or 100 years and nothing is more important than sincere, thorough dialogue and mutual understanding.
Kentaro Kasho