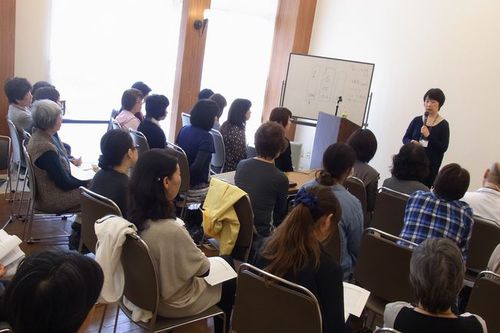 Copyright JKSK Yui-Yui Project All Rights Reserved.
Tohoku Fukko Nikki (Tohoku Reconstruction Diary) is a weekly article published in an eastern Japan newspaper called the Tokyo Shimbun that delivers news and stories on reconstruction efforts in the areas devastated by the 2011 Great East Japan Earthquake, submitted by JKSK Yui-Yui Project, a non-profit organization that provides support to victims of the earthquake. Below is an article published on May 9, 2014, featuring some of the emotional support efforts being provided to earthquake survivors.
According to data released on May 7, 2014, by Fukushima Prefecture, where 130,000 people are still displaced, physical and mental illnesses related to the earthquake, which killed 1,699 people in this prefecture, outnumbers the 1,603 whose deaths were directly tied to disaster-caused injuries. Many victims evacuated to Iwaki City, located at the southern edge of Fukushima Prefecture, where there are still over 20,000 evacuees living in more than 3,500 temporary houses. Due to the prolonged evacuation, family and community bonds have weakened, leaving many victims living in isolation.
As a part of its mental health program, JKSK held seminars in the cities of Kesennuma and Ishinomaki in Miyagi Prefecture, featuring "tsubo ton ton therapy" (pressure-point massage therapy), tailored for the earthquake victims from a therapy method called the Emotional Freedom Techniques that integrate the Eastern philosophy of chi and Western psychotherapy, which is used to help veterans overcome PTSD (post-traumatic stress disorder) and victims of the earthquake in Haiti and the civil war in Rwanda.
Many people in Fukushima still struggle with depression caused by the Great East Japan Earthquake. Responding to their requests, the Tsubo Ton Ton Therapy Workshop, which was developed specifically for earthquake victims was held in Iwaki on April 21 and 22, 2014. The workshop was led by Ayuka Mizoguchi and six other therapists from the Heart Circle, a volunteer organization that provides mental health counseling for natural disaster victims and their supporters, where they had approximately 70 participants over two days.
In trying hard to strive on their own, many participants appeared to be putting strong pressure on themselves, on top of the mental stress from the earthquake and living their difficult lives daily after the disaster. They struggled with feelings of solitude and loss while still living in temporary housing and dealing with complicated relationships with families and colleagues. Their stress is also deeply rooted in their unstable financial situation.
As the workshop proceeded, the participants started showing more relaxed faces. The post-event questionnaires received positive feedback, such as, "I learned that stress could be released by pulling my feeling out rather than suppressing it in myself, which I had been doing," "Feeling more at ease," and "Feeling a different type of relief which I have never experienced before." The participants' stress seemed to be eased even just by talking about their anxiety with others and expressing their emotion in tears at the workshop.
Fumi Aikawa
Yui-Yui Project, JKSK Empowering Women Empowering Society