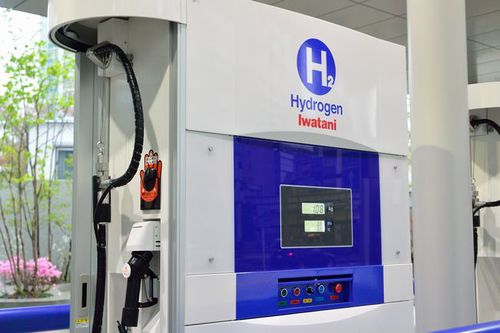 Image by Ryu Hayano Some Rights Reserved.
Saitama Prefecture, Japan, will launch a biomass power generation project utilizing the sludge from sewage treatment plants. The prefecture plans to begin power generation in 2019 and expand generation capacity by 2029 to a total of 25 million kilowatt-hours (kWh), equivalent to the power consumption of 5,000 households. It also plans to install a photovoltaic (PV) power generation system in the sewage treatment plants and to extract hydrogen from the sludge, which will be used to power fuel cell vehicles (FCVs). The following is a report about the efforts to implement this project. This article is reproduced in an edited form with permission from Smart Japan, an online media services provider specializing in energy conservation, storage, and generation.
There are two types of sewerage systems. One is a river-basin sewerage that maintains the quality of water in water-bodies such as rivers and lakes between two or more municipalities, and is operated by a prefecture. The prefecture treats all the sewage from the river-basin municipalities together in its sewage treatment plants. The other type is a public sewerage for primarily eliminating sewage in urban areas, and generally operated by municipalities.
Saitama Prefecture has the highest proportion of rivers by unit area in Japan, and has plentiful water resources. The prefecture operates a total of nine sewage treatment plants to treat sewage from eight river-basin sewerages. Three of the nine plants are Japan's top three treatment plants in terms of the amount of water treated. The total volume of sewage treated in the nine plants is approximately 1.77 million cubic meters per day, which would fill the Saitama Super Arena 2.4 times, and is equivalent to the sewage from some 5.3 million people (about 70 percent of the prefectural population).
As a result of treating such a large volume of sewage every day, a huge amount of sludge is also generated. Previously, the sludge has been used as a solid fuel and a construction material, and on September 9, 2015, Saitama Prefectural Governor Kiyoshi Ueda announced at a press conference that the prefecture also plans to use the sludge for biomass power generation.
The sludge from sewage treatment in Saitama Prefecture generates about 13 million normal cubic meters of methane gas per year. The prefecture plans to make use of this methane gas to generate biogas power. Starting in 2019, this kind of power generation will be launched at the Motoarakawa River and Nakagawa River Water Recycling Centers, and will be subsequently expanded to other treatment plants.
Saitama plans to begin the biogas power generation at four treatment plants by 2029, expecting a total generation capacity of about 25 million kWh per year. If successful, this means that electricity for about 5,000 households can be generated from renewable energy. Moreover, the project is expected to reduce up to 12,000 tons of greenhouse gas emissions annually. If all of this electricity were sold through a feed-in tariff system, almost one billion yen (U.S.$8.3 million) of revenue from selling electricity can be expected when calculated at the current purchase price.
The prefecture will also launch PV power generation at Nakagawa River and Koyamagawa River treatment plants in 2016, a little earlier than the biogas power generation. Solar panels will be mounted across a total of 3.7 hectares at the two facilities. The total amount of PV power generation is expected to be some 40 million kWh annually, equivalent to the power for 800 households.
Sewage Treatment Plants to Operate as Hydrogen Stations
As methods for using sewage sludge as energy, in addition to generating power by burning the methane gas produced from sludge in the abovementioned manner to rotate turbines, there is also the method of extracting hydrogen from the methane gas for use in fuel cells. Saitama Prefecture will also launch a project to produce sludge-derived hydrogen, which is free from carbon dioxide, at its sewage treatment plants.
The project involves extracting hydrogen from methane gas and supplying the hydrogen to fuel cell vehicles at hydrogen stations placed in sewage treatment plants, and also supplying the hydrogen to fuel-cell driven forklifts working in distribution warehouses. Hydrogen stations will be placed at the four treatment plants planned to start biogas power generation.
In preparation for the 2020 project start date, Saitama Prefecture is now conducting demonstrations using a model facility at the Nakagawa River Water Recycling Center. In addition to research focused on the installation of a hydrogen station in a treatment plant and construction of a hydrogen supply chain, the prefecture says it is also reviewing the economical feasibility of the project and other measures necessary for success. Governor Ueda says "We're confident in the fundamental feasibility of the project."
Saitama Project Expected to Stimulate Construction of Hydrogen Stations
The prefecture already had a goal to establish 17 hydrogen stations and have 6,000 FCVs running by 2020. Moreover, it intends to raise the goal to 30 stations and 60,000 FCVs by 2025. As of September in 2015, nine hydrogen stations had been established.
Governor Ueda says the number of the stations to be established by 2025 may increase to 34 by adding the four stations which he announced to construct in the sewage treatment plants.
He says "In total, there are about 2,140 sewage treatment plants all over Japan. We expect that the announcement of our project will inspire other municipalities across the nation to build hydrogen stations in their treatment plants as well. Hydrogen tanks are generally located along the coast, but we want to be pioneers in proving that hydrogen tanks can also be constructed in inland areas."