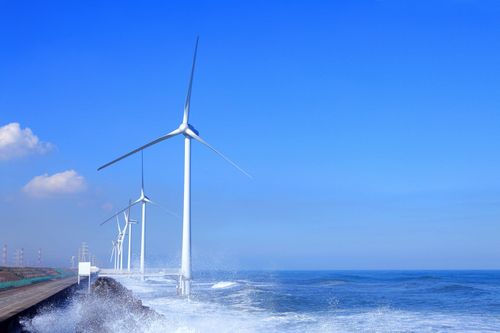 Copyright Wind Power Ibaraki

Japan's first full-scale offshore wind power station, "Wind Power Kamisu" in Kamisu City, Ibaraki Prefecture, was struck by a 6-intensity earthquake on the Japanese seismic scale and 5.0-meter tsunami wave during the Great East Japan Earthquake on March 11, according to the Japan Wind Power Association. Wind Power Iabaraki Ltd., the station operator, was forced to stop generation due to grid connection trouble caused by blackouts throughout the prefecture immediately after the quake. They resumed operation on March 14, however, because no damage was found in the system, and have been supplying electricity to Tokyo Electronic Power Co. ever since.
Wind Power Kamisu started full-scale operation in June, 2010, with seven wind turbine units installed 50 meters offshore from Minamihama in Kamisu. The station provides a total output of 14,000 kilowatts (kW) at a generating capacity of 2,000 kW per unit. Each wind turbine stands 60 meters above the sea and is fixed with three 40-meter-long blades.
In addition to Wind Power Kamisu, nine onshore wind power stations along the coast of Kamisu facing the Pacific Ocean are operating 26 wind turbines at a combined generating capacity of 39,100 kW. Kamisu City's Policy Planning Division says that most units resumed operation within three days after the disaster because they escaped serious damage, and that those units have been running normally since then.

Wind Power Company Launches Wind Turbines Offshore, Reducing Noise and Environmental Impact (Related JFS article)
http://www.japanfs.org/en/pages/030095.html
Posted: 2011/07/10 06:00:15 AM