JFS Newsletter No.189 (May 2018)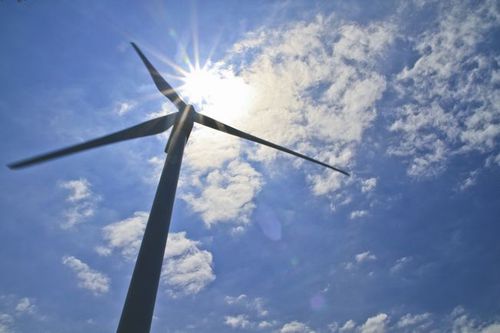 Image by Ponta.
The Seikatsu Club Consumers' Co-operative Union (Seikatsu Club) is a joint association of 32 co-ops throughout Japan. Based on the idea that consumers themselves should purchase the food they need to live, the club has been making collective purchases for more than 50 years through affiliations with trusted producers across Japan. Its efforts to purchase secure and safe products are now expanding to businesses that respond to various social challenges, including building livable communities and energy problems.
JFS Newsletter No. 179 (July 2017)
Seikatsu Club: Japanese Cooperative Managed by Members' Will to Confront Social Problems
https://www.japanfs.org/en/news/archives/news_id035882.html
Electricity and energy are as indispensable to our lives as food. However, unfortunately it is difficult to be energy self-sufficient within our own local living environment. To tackle this challenge, the Seikatsu Club is building region-to-region relationships related to energy, using its 50 years of experience linking producers and consumers.
Aiming to supply and sell its own electricity rather than leaving it up to the national government or power companies, several Seikatsu Club co-ops invested funds to establish the Seikatsu Club Energy Co. in 2014. It purchases electricity from 46 renewable energy power stations in Japan to sell mostly renewable energy to approximately 10,000 households and businesses nationwide.
This issue of the JFS Newsletter introduces the "Yumekaze" Seikatsu Club Wind Turbine built in Nikaho City, Akita Prefecture (northern Japan), focusing mainly on how it connects urban areas and the countryside, as well as production and consumption. This project was the starting point of the Seikatsu Club's activities in the energy sector. ("Yumekaze" literally means "dream wind.")
Yumekaze was built in March 2012 in Nikaho as a joint venture of four co-ops operated by the Seikatsu Club in the Tokyo metropolitan area (Tokyo, Kanagawa, Chiba and Saitama). This wind project is operated by the Green Fund Akita, a general incorporated association that functions as the business entity, while the four co-ops invest and lend funds and are involved in planning and operations.
Yumekaze is a large wind turbine with an output of 1,990 kilowatts, generating 4.9 million kilowatt-hours of electricity annually, all of which is sold to Seikatsu Club Energy Co.
A Little Different from Other Wind Projects
Since it was the first energy project for the Seikatsu Club, many discussions and suggestions were made among members as to what kind of relationship the club should build with Nikaho. Some members said "Our relationship should not be 'invisible,' with electricity generated locally just transmitted through power lines and used far away in the metropolitan area. We should build an active relationship that also benefits locals for hosting wind turbines and renewable energy." Such comments triggered exchanges between Nikaho residents and co-op members in the metropolitan area.
To mark the first anniversary of the wind turbine's operation, Nikaho locals and co-op members from the Tokyo area celebrated together at a barbecue party. Now the club, in cooperation with Nikaho City, runs regular tours for members. In addition to visiting the turbine, the tour participants can also enjoy activities like trekking in the rich nature around the city and making soba (buckwheat) noodles. Recently college students from the metropolitan area learned about the project and activities of the Seikatsu Club and Nikaho, also started to visit the city. In this way, the circle of exchange between people in the urban and rural areas is expanding.
Thanks to these exchange activities, the Seikatsu Club's unit is now seen as "a wind turbine with faces" for the locals of Nikaho, which means that the locals know the actual faces of people who are buying the power generated by the turbine. Nikaho faces the Sea of Japan, which makes it a prime location for wind power. There are dozens of wind turbines within the city's boundaries today owned by other entities , but Yumekaze appears to be the locals' favorite, as Seikatsu Club members often hear comments like "The Seikatsu Club's turbine reminds me of the faces of the co-operative members," and "I get worried if I see the Club's turbine not turning." Disaster prevention agreements and various other future projects are being discussed to further deepen exchanges and cooperation.
Adults are not the only ones who feel an affinity to Yumekaze. The turbine is used as a learning tool to study the topic of energy at elementary schools in the city. The turbine provides a venue for students to learn about the environment and energy as they can actually observe how the turbine operates not only from the outside but also from the inside.
The turbine's name was decided through a naming competition. A call was put out to elementary school students, parents and guardians, classes in local schools and groups active in Nikaho, resulting in 270 entries. From a shortlist of ten names selected by the Nikaho City Municipal Board of Education, about 1,800 co-operative members voted to select "Yumekaze" as the winner.
In a way, the name embraces hopes of the both the Nikaho locals and co-operative members in the distant Tokyo metropolitan area, and perhaps that is why many feel a close connection with the turbine.
Joint Development of Yumekaze Brand Products
The relationship between the Seikatsu Club and Nikaho has been growing more than ever. The Seikatsu Club purchases farm products grown in Nikaho, such as tomatoes for processing, and soy beans, as ingredients for its original consumer products. In addition, a part of the profits from sales of the turbine's electricity is allocated to the processing of local farm products. They have jointly developed branded products since 2015.
Four Seikatsu Clubs in the Tokyo metropolitan area, in partnership with food processors and a sake brewery in Nikaho, have jointly developed products using local specialty products under Yumekaze brand. In fiscal 2016, the following products were produced and sold to co-operative members: Yumekaze Junmai Daiginjo (a top-quality sake) by Seikatsu Club Kanagawa; Taramen codfish fermented sauce-based ramen (Chinese noodles), by Seikatsu Club Tokyo; Tara Shottsuru codfish fermented sauce by Seikatsu Club Chiba; Beppin-san Ichijiku fig compote by Seikatsu Club Saitama.
Housewives and other co-operative members from the Tokyo metropolitan area participate in the joint development of the Yumekaze brand products. They go back and forth to Nikaho to develop products through trial and error over almost half a year. This is a great opportunity for Nikaho's local companies to hear directly from metropolitan consumers and develop new business opportunities.
The renewable energy situation in Japan has changed significantly since the Fukushima nuclear accidents in 2011, the introduction of the feed-in-tariff (FIT) system for renewable energy in 2012, and the liberalization of electricity power sales in 2016. The introduction of the FIT system encouraged an increasing number of communities to promote renewable energy. The liberalization of power sales enabled buyers to purchase electricity from new power companies focusing on renewable energy. Consumers in Japan can now choose their electricity based on where and how it is generated.
A key feature of the joint efforts by the Seikatsu Club and Nikaho City is connecting metropolitan and regional communities through two essential ingredients of modern life: "energy" and "food." Today, we live in a society where consumers cannot usually see where their food and electricity come from, while producers cannot see who consumes their products. In this context, their joint efforts, which enable consumers and producers to know each other, are more important than ever.

Written by Yuka Kume