JFS Newsletter No.184 (December 2017)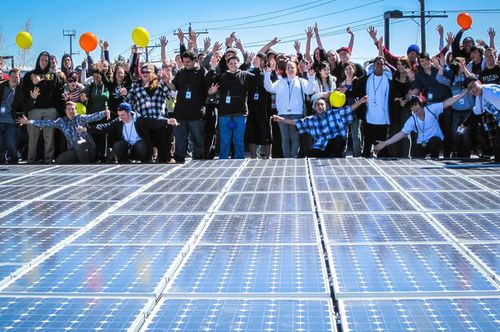 Image by BlackRockSolar Some Rights Reserved.
The ISO Student Committee at Tokyo City University held its 19th Environment ISO Forum on October 28, 2017. This event is held annually to report on activities related to ISO 14001 (an international standard on environmental management systems) at the Yokohama Campus of the university. Besides the sharing of information, it also aims to raise environmental awareness among the students.
At the 2017 event, Hironao Matsubara, chief researcher of the Institute for Sustainable Energy Policies (ISEP), presented the "Latest evelopments of Renewable Energy in Japan and Overseas -- Global and Local Trends Toward 100 % Renewable Energy."
This issue of the JFS Newsletter introduces the latest trends toward 100% renewable energy in Japan, summarizing the presentation by Dr. Matsubara.
---
Paris Climate Agreement and Global Trends for Renewable Energy
It's been a long time since I have spoken in front of so many students. I am very glad that more and more young people like you are getting interested in the renewable energy trend. Today I would like to talk about a hopeful situation: how widely renewable energy has been spreading both domestically and internationally -- in other words, how we are heading toward a world of 100% renewable energy.
First, I would like to address a fundamental question: Why renewable energy? Energy issues are intricately connected with the issue of climate change. And it is renewable energy that will play a growing role in all of this.
As you may know well, a major cause of climate change is greenhouse gas emissions from the use of fossil fuels. To limit the rise in the global mean temperature to two degrees Celsius above pre-industrial levels, we must cut greenhouse gas emissions to half of the 1990 levels by 2050. In December 2015, the Paris Agreement was adopted. The agreement aims at "keeping a global temperature rise (...) well below 2 degrees Celsius (...) and pursue efforts to limit the temperature increase even further to 1.5 degrees Celsius." It entered into force in November 2016.
This has two very important meanings. First, we shared a clear awareness that it has become possible to spread renewable energy all over the world. Second, renewable energy must inevitably become a major player, now that it has been acknowledged that in the long-term, greenhouse gas emissions must be effectively reduced to zero after 2050. In effect, it was strongly acknowledged that we can and must reach 100% renewable energy.
In fact, more than 600 leaders of cities and local communities, as well as over 110 companies, have declared their intention to shift toward 100% renewable energy. Although Japanese companies lag somewhat behind, some are starting to join this trend. In May 2017, international non-governmental organizations (NGOs) collaboratively established the Global 100% Renewable Energy Platform to accelerate this trend. Regarding local governments, I am watching the movements of a network of cities and regions aiming at 100% renewable energy. As of March 2017, 11 cities had joined.
Next, I would like to talk about how much renewables have been installed worldwide. Wind power generation started to be introduced in the 1990s and gradually increased in the 2000s, and the cumulative installed capacity is now about 500 gigawatts (GW), equivalent to 500 nuclear reactors. Meanwhile, solar photovoltaic (PV) power generation started to increase about a decade ago. The cumulative installed capacity is about 300 GW, and the increase is coming at a pace faster than wind power.
According to the Renewables 2017 Global Status Report released by REN21 on June 7, 2017, the amount of investment in the renewable energy market rose steadily from about 45 billion dollars in 2004 to about 310 billion dollars in 2015, although it dropped to 240 billion dollars in 2016, or 23% down from the previous year. I wondered why it decreased at first, but found a reason. It is because the initial cost of installation has gone down drastically. The renewable energy market has now reached the point where the amount of money invested can go down even while the installed capacity increases.
How about the cost of electricity generated by renewable energy? The costs of land-based wind, hydro, and geothermal power generation are almost the same as for electricity generated by burning fossil fuels. The costs of photovoltaic power generation have decreased to the same level as thermal power, under the right conditions. The costs of offshore wind power generation also have started to drop. Therefore, in the future, the costs of renewable power generation as a whole are expected to be equal to or less expensive than thermal power.
Japan's Path to 100% Renewable Energy
So, what must Japan do to move toward 100% renewable energy? We must gradually reduce the use of non-sustainable energy, which comes from fossil fuels and nuclear power. With the decreased use of energy as a whole and the increased use of renewable energy, we can achieve 100% renewable energy in the future.
Policy objectives have an important role to play in promoting renewable energy. European countries have set targets of around 30% or greater as the renewable energy ratio of power generation in 2020. Some have already achieved their targets, and the rest are continuing to work toward them. In contrast, Japan's target is just 24% in 2030. Compared to European countries, Japan is 10 years behind. So the big question is this: How can we catch up?
Looking at Japan's situation since 2011, nuclear power generation dropped dramatically and fossil fuels went up for a while but later declined, while renewable energy is increasing. As a result, we can see promising numbers -- CO2 emissions are on the decline even as GDP increases, indicating the start of what we call "decoupling." This phenomenon has become the norm in Germany and elsewhere in Europe.
For the energy mix in 2030, the Japanese government aims to achieve a 44% target ratio for what it calls "non-fossil-fuel" power, a combination of renewable and nuclear energy. The official target ratio for nuclear is 20% to 22%, but the restart of several nuclear plants has been delayed due in part to their high risk, so some now say that we can achieve Japan's energy mix target just by increasing the ratio of renewables. Actually, Kyushu Electric Power Co., which is very progressive in adopting photovoltaics, says that it does not need the electricity generated from nuclear plants operating inside its own service area, so it is supplying that electricity to other areas.
As Japan shifts toward renewable energy, we face the issue of not being able to connect new renewable energy facilities with the grid due to the lack of available grid capacity. In an attempt to improve the situation, the Organization for Cross-regional Coordination of Transmission Operators has been established to permit more flexible coordination of electricity on broader regional scales, beyond the defined service areas of the power utilities.
Thanks to electricity market deregulation in Japan, users can now choose which company to purchase electricity from. However, power companies are not required to disclose information on their mix of power generation, so users don't receive sufficient detail even if they prefer renewables. Against this backdrop, the Power Shift campaign has been created to provide information online about power companies that are making the effort to use renewables, and encourages users to switch to those companies.
Roles of Communities and Individuals
The movement toward 100% renewable energy needs to be community-driven. It is also important to have economic benefits for communities, in order to achieve social consensus and ensure that revenues return locally. Some municipalities have adopted local ordinances to promote renewables. In some large-scale renewable energy developments, forests have been cleared to make way for massive photovoltaic facilities, and this has attracted criticism. In response, some effort is now being made to develop guidelines and zoning regulations prior to future projects being undertaken. These examples show that consensus-building and sustainability are also important in the world of renewable energy.
In May 2014, the Japan Community Power Association was established as a network aimed at creating a sustainable society through community-driven projects that promote renewable energy sources. The first World Community Power Conference was held in Fukushima, Japan in 2016. The initiative plans to expand globally, and in 2018, the second conference is scheduled to be held in Africa.
Lastly, I would like to conclude my talk by summarizing what each of us can do to achieve 100% renewable energy.
Know
Know climate change risks
Know the limits and risks of nuclear power
Know the limits of fossil fuels
Know the possibilities of renewable energy
Know the advantages of energy-saving
Participate
Participate in seminars and symposiums
Become a supporter and/or a member of NGOs
Participate in volunteer activities
Participate in community activities
Participate in politics such as via elections
Think
Think about sustainable society
Think about the next generations
Think about visions for energy in the future
Think about energy-saving methods
Think about how to increase renewable energy
Think about how to choose energy sources
Act
Save energy
Reduce CO2 emissions by 80%
Choose renewable energy
Adopt/install renewable energy
As consumers, choose which companies to buy from
Choose political parties and politicians
Today, I talked about the current situation and the future of renewable energy. Were you able to have a glimpse of what your future might look like? As you move forward on your life path, renewable energy will definitely play a major role. I hope you will get involved somehow and think proactively about all of this.

Edited by Nobuhiro Tanabe