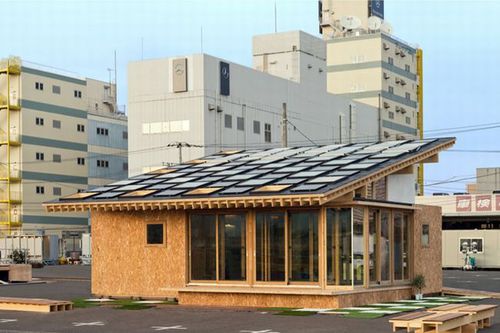 Copyright Shibaura Institute of Technology All Rights Reserved.
The Shibaura Institute of Technology submitted a zero-energy house to "Ene-Mane (Energy Management) House 2014." Named "Mother's House 2030: Shared-Living House with Breathable Roof and Environmental Shelter," the house encouraged a change in lifestyle from one centered on the individual to one of sharing. The institute received the most votes from visitors during the event, earning it the People's Choice Award, and was also granted an award of excellence on January 31, 2014.
Ene-Mane House is an architecture competition that elicits proposals from university students on advanced technologies and new ways of living based on the theme "House of 2030."
Mother's House 2030 is covered with a "breathable roof" made of photovoltaic panels, heat collection panels, glass, and a ventilation layer so that it can harness solar energy in the forms of electricity, heat, and light. The captured solar energy is supplied to the house through a "solar management system" combining an integrated power generation and storage system made by Panasonic Corp. and a water heating system made by Tokyo Gas Co. Storing both electricity and heat allows occupants to use energy with extreme efficiency.
In summer, for example, hot water made by the heat collection panels is used to regenerate the desiccant air conditioner, while in winter the hot water helps create a healthy thermal environment through floor heating in the living room and radiant ceiling heating in the bedrooms and bathroom. The house also features an "environmental shelter," where residents can safely retreat when a disaster occurs.