JFS Newsletter No.182 (October 2017)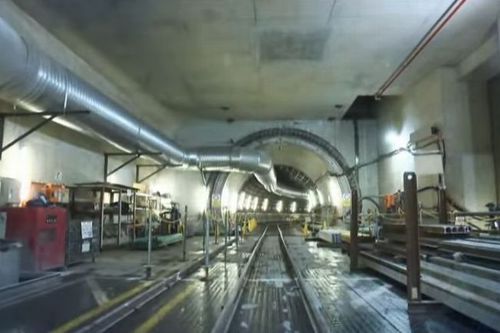 Image Source: YouTube / Rainbow Heart by Tokyo Metropolitan Government
Sewage systems play an important role in making our lives safe and comfortable. According to its website, the Tokyo Metropolitan Government (TMG) Bureau of Sewerage oversees three kinds of facilities: sewers for collecting and carrying waste water, pumping stations for pumping up waste water on route to the water reclamation centers so the sewer pipes do not have to go too deep underground, and water reclamation centers for purifying waste water.
Waste water discharged from households or factories is collected and carried by sewers, purified at the reclamation centers and discharged into rivers or the sea. In urban areas with many artificial structures, where little rain water permeates into the ground, sewage facilities also take an active part in preventing flooding.
Operating these sewage facilities requires much energy, which leads to large greenhouse gas (GHG) emissions. To reduce GHG emissions with the hope of bestowing a comfortable global environment to the next generation, the TMG Sewage Bureau came up with a global warming prevention plan for operating its sewage system, "Earth Plan 2004."
The performance of these facilities still has room for improvement, but the improved facilities will require even more energy. On March 10, 2017, the bureau announced its "Earth Plan 2017," aimed at both improving facility performance and reducing GHG emissions at the same time. This month's JFS Newsletter introduces the TMG Sewerage Bureau's efforts to make Tokyo the world's leading smart energy city.
---
Past Results and Newly Set Goals for GHG Emissions Reduction
The TMG Sewerage Bureau has been reducing GHG emissions in stages by setting limited time goals.
In September 2004 prior to enforcement of the Kyoto Protocol, the bureau formulated a plan to reduce its GHG emissions, which had amounted to 1.065 million tons of CO2 in fiscal 2000. In fiscal 2009 the bureau attained its goal of a 6 percent reduction from the fiscal 1990 level, with 938,000 tons of actual CO2 emissions.
The bureau has continued its efforts, setting a goal of a 25 percent reduction from the fiscal 2000 level, or 798,000 tons of CO2 emissions, by fiscal 2020. In fiscal 2016, four years ahead of time, the bureau attained this goal, with 796,000 tons of actual CO2 emissions.
Sludge treatment and water treatment processes are sewage facilities' main GHG emitters. Thanks to its efforts since fiscal 2010, the bureau has succeeded in significantly reducing its sludge treatment process emissions, but it has hardly made a dent in water treatment process emissions. As a result, 56 percent of emissions from sewage facilities are currently CO2 and N2O emitted from the water treatment process. The bureau's future challenge will be to reduce emissions effectively in the water treatment process along with continuing its efforts in the sludge treatment process.
While the Bureau was seeking further improvements for steadily reducing its GHG emissions, the Paris Agreement was adopted at the COP21 in Paris in December 2015. In response to it, Tokyo put forth the "Tokyo Metropolitan Environmental Master Plan" in March 2016 to realize a world-leading environmentally conscious city.
The Bureau of Sewerage considered concrete measures based on Tokyo's policy. Consequently, it formulated "Earth Plan 2017" in March 2017 to realize a higher goal of reducing emissions by over 30 percent compared to fiscal 2000 levels by fiscal 2030, while upgrading the function of sewerage facilities.
Outline of Earth Plan 2017
Earth Plan 2017 aims to reduce GHG emissions by implementing the following three fundamental policies:
By ensuring compatibility with the basic energy plan "Smart Plan," promoting initiatives effectively to achieve the goals of each plan;
To further accelerate GHG reduction effects, developing and taking the lead in introducing the latest technology, achieving energy conservation and the utilization of renewable energy; and
In anticipation of increased GHG emissions caused by flood-prevention strategies and combined sewerage system improvements, making further efforts to reduce the amount of emissions.
The reduction goal is planned to be achieved in two stages. The first goal will be to reduce emissions by more than 25 percent from fiscal 2000 levels by fiscal 2020. Even though the 25 percent reduction from fiscal 2000 levels had already been achieved in fiscal 2016, emissions are expected to increase due to future improvement of facilities. This goal was therefore set to offset the anticipated increase. The second goal will be to reduce emissions by more than 30 percent compared to fiscal 2000 levels by fiscal 2030.
How, then, can the reduction goal be reached? To enforce these measures, six policies have been put forward:
(1) thorough energy saving;
(2) effective treatment operations and methods;
(3) utilization of renewable energy;
(4) development of technology;
(5) collaborative initiatives; and
(6) cooperation with customers.
In line with these policies, 25 concrete, effective measures for reduction have been settled on. Implementing the measures is expected to result in emissions reductions of 19,000 tons of CO2 by fiscal 2020 and 96,000 tons by fiscal 2030 compared to fiscal 2016 levels. If the increased amount of CO2 emitted from the improved facilities in the future is deducted, the amount of emissions in fiscal 2020 will be almost the same as in fiscal 2016, and the CO2 emissions reduction from fiscal 2016 levels in fiscal 2030 will be 53,000 tons, attaining both goals.
Measures to Reduce GHG Emissions
Here I introduce four specific measures to decrease GHG emissions.
Introduction of Microbubble Aeration System
In the water treatment process, wastewater is fed into a reaction tank where microbes decompose its organic matter to purify the water. To enhance these microbial activities, oxygen is supplied to the tank using fans. A microbubble aeration system, which would generate smaller bubbles compared to the existing system, would allow more oxygen to dissolve into the wastewater in the tank, reducing the need to operate the fan. The existing aeration system accounts for 40 percent of the electricity used in the entire water treatment process, but introducing a microbubble aeration system could lower the energy consumption by about 20 percent.
Significant Reduction in Sludge Moisture Content
Sewage sludge with a low moisture content burns easily, so the bureau has been working to reduce the use of auxiliary fuel for incineration by lowering the moisture content. Under Earth Plan 2017, the bureau will improve dewatering machines and further reduce the moisture content to 74 percent or less, aiming to eliminate the need for auxiliary fuel. At the same time, waste heat will be efficiently recovered from the incinerators to generate electricity. The generated power will be supplied to the incinerator itself, as well as water treatment and sludge treatment facilities.
Improving Incinerator Efficiency via Wide-Area Operation
Energy efficiency is low when treating small amounts of sludge. The bureau will maximize efficiency by properly distributing sludge among water reclamation centers in an effort to reduce the use of electricity and auxiliary fuel. After choosing a key station, the bureau will establish sludge treatment facilities that can adjust the amount of sludge to be distributed among centers for efficient operation at ordinary times and provide a backup in case of emergencies.
Entire Facility Energy Management
Fuel use at sludge treatment facilities, for example, can be reduced by harnessing energy from sludge generated at water treatment facilities. The bureau will improve operation methods and develop new technologies that can reduce the overall energy use of entire facilities, in addition to continuing its efforts to make individual improvements to the efficiency of water and sludge treatment.
---
The major roles of a sewerage system are to treat wastewater generated by people and return the treated water to nature without producing an environmental impact. Their role in flood protection is also growing under the influence of climate change. While fulfilling these roles, how will the bureau reduce its own GHG emissions? A re-examination may be required depending on the situation. We anticipate the bureau working flexibly to achieve its goals, while keeping an eye on making Tokyo a world-leading "smart energy city."

Written by Nobuhiro Tanabe
See also:
http://www.gesui.metro.tokyo.jp/english/aboutus/ourprofile/index.html