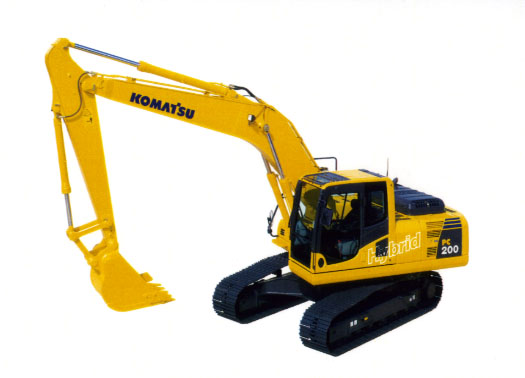 Copyright Komatsu Ltd.

Komatsu Ltd., a major Japanese construction machinery manufacturer, launched sales of its PC 200-8 Hybrid, the world's first hybrid excavator on June 1, 2008. It expects to make delivery of thirty units in the Japanese market by the end of March 2009.
An excavator needs a lot of energy while braking and decelerating due to whirling around several times during loading and unloading. Based on its own research, Komatsu designed the hybrid excavator to efficiently capture and store energy during this process. Using this system, the company says it has achieved a reduction in fuel consumption of up to 41 percent, with an average of 25 percent savings.

In May 2007, the company launched the world's first hybrid electric forklift truck on the market. In addition, it introduced a medium-sized hybrid hydraulic shovel in the market as its flagship construction machine after they began sales of its forklift truck.
- Komatsu Introduces the World's First Hydraulic Excavator
http://www.komatsu.com/CompanyInfo/
press/2008051315113604588.html
Posted: 2008/11/26 11:08:33 AM