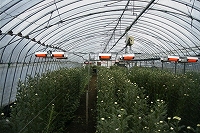 Copyright
Since 2002, Nippon Keiki Kagoshima Works, Ltd., an LED (light emitting diode) manufacturer in Japan, has been experimenting electric light cultivation of chrysanthemums using red LEDs, which contribute to longer lamp life and energy savings. As of January 2007, a 90 percent success rate has been achieved.
Using red LEDs has various benefits: 1) they are more efficient than incandescent lamps, ensuring longer (semi-permanent) lamp life; 2) they do not generate excess heat, and thus cause no temperature damage to chrysanthemums; 3) they repel insect pests from chrysanthemums and so less agrochemicals are used.
Running a greenhouse of six meters by fifty meters requires 50 incandescent lamps of 75 W (a total of 3,750 watts). By using red LEDs, two 75 W lamps (a total 150 watts) are sufficient. The company plans to continue the experiment, with the ultimate aim of commercial production.
http://www.nipponkeiki.co.jp/english/home.html
Posted: 2007/04/01 12:05:15 AM
Japanese version