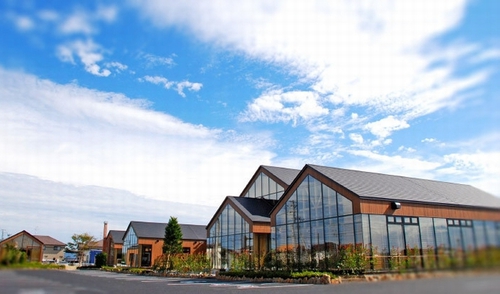 Copyright TOUHOKU ROKU PROJECT All Rights Reserved.
A retail business facility named "Roku Farm Atalata" opened September 29, 2013, in the city of Natori, Miyagi Prefecture, which was hit by the tsunami during the 2011 Great East Japan Earthquake. The facility aims at furthering recovery from the disaster and also provides a community space open to local people, in addition to restaurants serving food made from local ingredients from the Tohoku region, such as a soba (Japanese noodle) restaurant, a buffet-style restaurant, and a bakery.
The main concepts of the facility include job creation, supporting primary industries, and raising awareness of disaster prevention. When choosing suppliers, the tenants put priority on supporting primary industries in Tohoku. For example, they buy ingredients from oyster farmers in the city of Ishinomaki who are trying to restart their businesses after the disaster. More than half of its 70 employees are persons with disabilities, so jobs have been created for those who lost income sources because of the disaster.
Six members from the Tohoku Reconstruction Project, a general incorporated association, and Tohoku Sixth Industry Creation Support Center Co. operate the facility. Tetsuya Watanabe, one of the six members and who has rich experience in the field of employment of persons with disabilities, plays a leading role in their employment in Atalata. He said, "I hope the facility serves as an evacuation center and that people recognize it as a safe place in case of emergency." Taking advantage of a retail sales facility where food is stocked, he hopes the facility will promote recovery from the disaster and promote disaster prevention awareness.
The initial cost of the project was approximately 660 million yen, about U.S.$6.7 million, and it is drawing attention as a large-scale reconstruction-related project initiated by the private sector without public subsidies.
Written by Kazuko Kojima