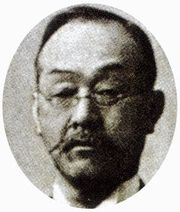 Dr. Fujioka : Copyright Toshiba Lighting & Technology Corp.
Toshiba Lighting & Technology Corp., a Toshiba subsidiary to manufacture and sell Toshiba brand lighting, announced on March 17, 2010, that it has closed down its production lines for 103 types of regular incandescent light bulb. Toshiba closed the lines one year earlier than initially planned, as decided in 2008 as a part of its carbon dioxide (CO2) reduction initiative. The company expects that discontinuing the production will contribute to an annual reduction in CO2 emissions of 430,000 tons, as compared to 2008, when it shipped about 20 million incandescent light bulbs.
Toshiba's production of incandescent light bulbs originated at its "Hakunetsu-sha (meaning Factory of Incandescence)" established in 1890 by Ichisuke Fujioka, one of the founders of Toshiba, as the first manufacturer of incandescent light bulbs in Japan. From an initial production scale of 10 units per day, production continued to expand until reaching an annual production peak of 78 million bulbs in 1973. Toshiba has produced a total of 4.07 billion bulbs over its 120-year history.
In 1980, Toshiba developed the world's first ball-shaped compact fluorescent lamp (CFL) in response to increasing awareness of energy saving, and has continued to develop smaller, more efficient and longer lasting CFLs. As a result, CFLs increased in popularity, while production of incandescent light bulbs began to decline around 2000. In addition, as required by the need to prevent global warming, Toshiba Light & Tech succeeded in commercializing light emitting diode (LED) lamps bright enough for practical use in 2007. The company created much more efficient and environmentally friendly LED lamps for general, and is now promoting replacement of incandescent bulbs.
These technological innovations have prompted the company to cease incandescent light bulbs production.
Toshiba to Discontinue Incandescent Bulb Production by End of Fiscal 2010 (Related JFS article)
http://www.japanfs.org/en/pages/027109.html
Fluorescent Bulbs Replace Incandescent in World Heritage Site Buildings to Reduce CO2 Emissions (Related JFS article)
http://www.japanfs.org/en/pages/026992.html
Toshiba Lighting & Technology Corp. official website
http://www.tlt.co.jp/tlt/index_e.htm
Posted: 2010/06/13 06:00:15 AM