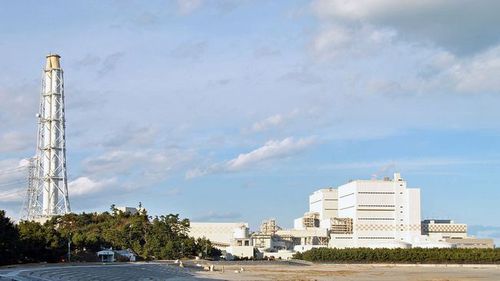 Haramachi thermal power plant
Photo by  Kuha455405 Some Rights Reserved.
A trial operation of mixed-material thermal power generation using wood biomass was started on April 21, 2015, at the Haramachi thermal power plant, located in a coastal area of Minamisoma City in Fukushima Prefecture. The plant has two 1 million-kilowatt thermal power generators, with the existing coal injection system now expanded with the addition of a wood-chip conveyer.
According to the plan, the plant will annually burn six million tons of wood chips, which are sourced from around Fukushima and its neighboring Miyagi Prefecture. This will contribute to the conservation of local forests and re-vitalization of the local forest industry. Curtailing the use of coal by 20,000 tons per year will also reduce carbon dioxide (CO2) emissions by 50,000 tons, equivalent to the CO2 emissions of 10,000 average-size households.
There are still many people taking shelter just outside the city that were displaced by the Fukushima Daiichi nuclear plant accident, and Minamisoma recently became the first city in Japan to declare the goal of being a city free of nuclear power. With the intent of never seeing a repeat of the same tragedy, the city plans by the year 2030 to have a power supply system that does not rely at all on nuclear power and satisfies the city's power demands using only renewable energy sources.
Source: Smart Japan (in Japanese)