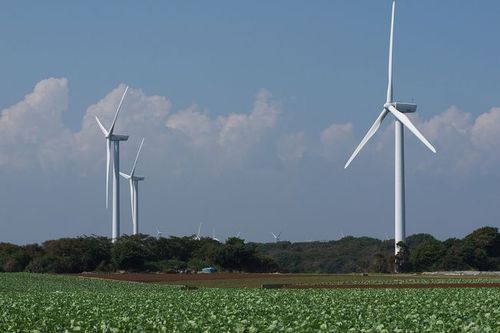 Takumi Nemoto, Minister of Reconstruction, announced at a press conference on December 20, 2013, the government's intention to allow the conversion of agricultural land to wind farm use, based on the newly enacted Act on Promotion of Generating Renewable Energy Harmonized with Healthy Development of Agriculture, Forestry and Fishery. The government has eased restrictions on converting farmland to renewable energy facility sites, essentially unlocking even prime land (Category 1 farmland) for wind power generation facilities, if certain requirements are met. The Act was passed on November 15, 2013, promulgated on November 22, and will go into effect within six months of that date.
The law promotes the healthy development of agriculture and fisheries alongside electricity generation, using well-balanced renewable energy sources, and aims to revitalize agricultural and fishery communities and also establish a system for diverse energy sources.
While much abandoned farmland can accommodate solar power facilities, suitable sites for wind farms are limited. Thus, the new law allows prime agricultural land to be converted to wind farm if the site has stable wind all year around and other conditions are met. The scheme is expected to accelerate renewable energy utilization in regions including Iwate Prefecture, where there are promising wind farm candidate sites.