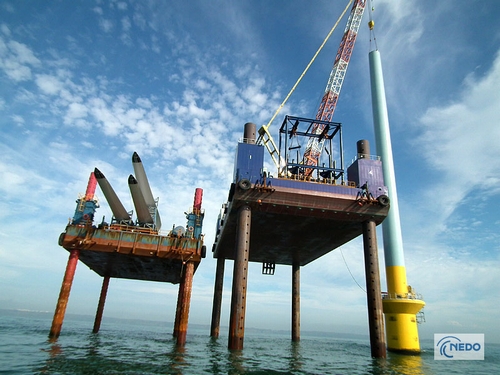 Copyright New Energy and Industrial Technology Development Organization

The New Energy and Industrial Technology Development Organization (NEDO) is promoting offshore wind power generation projects with the aim of establishing Japan's first commercial offshore wind farms. NEDO has plans to install offshore wind observation towers to measure wind direction and speed, as well as wind turbines to generate electricity, off the coast of Choshi in Chiba Prefecture and Kitakyushu City in Fukuoka Prefecture in fiscal 2012.
Global wind power capacity has been rapidly increasing in recent years with the growing construction of offshore wind turbine projects. Offshore wind power generation capacity in Europe, for example, had reportedly reached about four million kilowatts (kW) by the end of 2011. Meanwhile, onshore wind power generation in Japan had reached about 2.5 million kW by the end of 2011, and more capacity is expected by the construction of offshore wind farms, taking advantage of the country's unique, long coastline and large marine areas.
Offshore wind projects in Japan have issues associated with differences in weather and ocean conditions between the Japan Sea and the Pacific Ocean, and up to now uncharted ocean wind conditions. There are also many challenges to commercialization of wind power, such as reducing the cost of construction. To establish the most suitable technologies for Japan, NEDO plans to observe wind conditions and demonstrate wind power generation in both the Japan Sea and the Pacific Ocean, as well as to promote technology development for construction, management, and maintenance of wind turbines for offshore generation, and to develop environmental assessment methods.
Related JFS article:
Japan's Feed-in-Tariff Scheme Kicks Off!
Offshore Wind Farm Verification Project Off Kitakyushu City Begins
TEPCO Launches Experimental Study of Offshore Wind Power Generation
Offshore Wind Profiling to Start for Future Wind Farm Installation