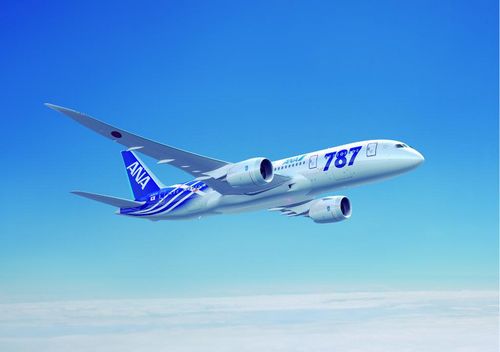 Copyright All Nippon Airways Co.

All Nippon Airways Co. (ANA), a major Japanese airline, and Boeing Co., the world's largest aerospace company, jointly announced on April 17, 2012, that they had conducted the world's first transpacific flight using biofuel and that the airplane safely arrived at Tokyo Haneda Airport at night, Japan time, on the same day.
The delivery flight of the Boeing 787 to ANA between Washington State (U.S.) and Haneda Airport is also the first-ever transpacific biofuel flight conducted by ANA, which signaled the launch of its newly drawn-up mid- and long-term environmental plan called "ANA FLY ECO 2020," for the period from FY2012 through FY2020. As one of its measures to reduce carbon dioxide (CO2) emissions, ANA aims to introduce the routine use of alternative fuels, including biofuel, within the planned period. This first flight is part of that plan.
With a state-of-the-art body that lowers environmental impact, the Boeing 787, along with the use of biofuel, is estimated to reduce CO2 emissions by approximately 30 percent when compared to the conventional 767-type aircraft. The 787 flew with existing petroleum-based jet fuel (kerosene) with a mix of 15 percent biofuel made mainly from used cooking oil.
JAL to Make First Asian Biofuel Demonstration Flight (Related JFS article)
JAL 'Sky Eco' Project to Cut CO2 by 20% by 2010 (Related JFS article)
Posted: 2012/07/12 06:00:15 AM