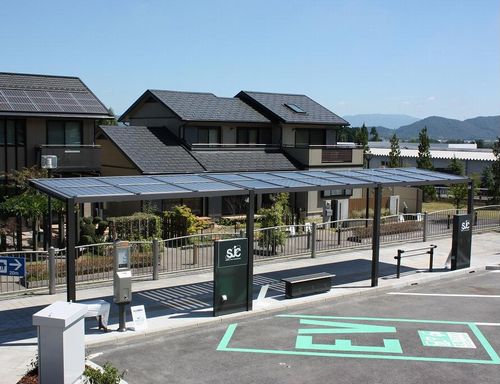 Copyright Kyocera Corp.

Sekisui Jushi Corp. (SJC), a leading Japanese manufacturer of street materials, and Kyocera Solar Corp. (KSC), Kyocera's domestic sales subsidiary of solar-generation systems, co-developed the Eco-Shell, a shelter with Kyocera's photovoltaic generation (PV) system on the roof. The new product is intended for use at bus stops or station squares as a shelter from the sun and rain. The companies started to sell the product on July 20, 2011, proposing its use to municipalities and private companies across Japan.
The shelter combines SJC's conventional multi-purpose shelter unit combined with Kyocera's PV module on the roof and light-emitting diode (LED) lighting under the eaves. SJC and KSC had been jointly developing the shelter since 2009.
The electricity generated by the shelter's PV system can be used not only for lighting the shelter but also for surrounding facilities under the same lighting contract, contributing to power conservation in daytime and reduction of carbon dioxide emissions. Furthermore, the shelter uses LED lighting to reduce power consumption at night, with excess power being sold to power utility companies, thus helping to mitigate power shortages. Moreover, equipped with a power conditioner, the shelters can be used as emergency power supplies in the event of a disaster, as each has an independent power outlet that could be used to charge mobile phones and other vital electronics.
Posted: 2011/10/22 06:00:15 AM