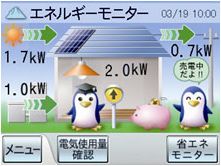 Copyright Panasonic Electric Works Co.
Panasonic Electric Works Co. launched a new energy monitoring system, Energy Monitoring Unit, on February 21, 2011. In addition to the feature of the current model called Eco-Management System (electricity monitoring type), which has been on the market since December 2007 that calculates electricity consumption and solar power generation.The new unit supports at-home awareness enhancement and actions for energy efficiency/water saving by enabling users to monitor gas and water consumption, as well as the amount of electricity generated by fuel cells (or gas) through entire visualization throughout the home.
The display of the new Eco-Management System (electricity, gas, and water monitoring type) shows athe status of household's CO2 emissions reduction, electricity generation and consumption, etc., in a user-friendly way using animation. Even more details are also indicated in an easy-to-understand manner with graphic and numerical values.
Additionally, the Energy Monitor function provides the current amounts of electricity generated by a solar power system and fuel cells (or gas), electricity consumed, and electricity sold/purchased, etc. The Energy-Saving Monitor function shows users the day's total energy consumption, and provides advice and information on the CO2 emissions reduction status for the month, the day, and the previous day.
This information can be displayed not only on the system's control panel but also on a television or computer screen. This helps people to understand their energy consumption visually in various places at home.
Panasonic Electric Works' Home Energy System Helps People Visualize Use of Electricity, Gas, Water (Related JFS article)
http://www.japanfs.org/en/pages/030088.html
Posted: 2011/05/28 06:00:15 AM