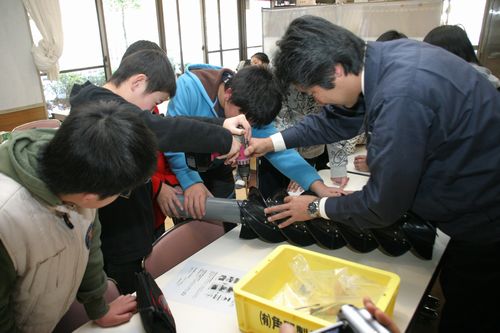 Copyright Ena City

Ena City, Gifu Prefecture, announced on January 20, 2011, that on the previous day it started a verification test to light street lamps with power generated by a prototype pico-hydropower generator with spiral blades. Dubbed "Let's make water turbine blades out of plastic bottle caps collected by our children to light school routes," the project aims to teach children to have fun learning about natural energy and spiral water turbines by using latent sources of hydropower in the community.
Kakuno Seisakusho Co., a local manufacturer of automobile parts, developed the generator with the technical assistance of Regional Renaissance Agency, a non-profit organization. Consisting of six pairs of four blades, the generator weighs about 20 kilograms, with dimensions about 30 centimeter wide by about 30 centimeter high by one meter long. Made of recycled plastic from plastic bottles, their caps, and bike motors, the generator operates at a water flow rate of 10 liters per second, and has a generation capacity of 2.4 watts, or 6 volts and 0.4 amperes of alternating current.
Students assembled and installed a turbine and held a lighting ceremony at Nagashima Elementary School on January 19 and at Kamiyahagi Elementary School on February 2. The city planned to test 10 generators by the end of March 2011 at nine points along water channels in the city to investigate the possibilities of using a lower electrical current, improving lighting intensity, and using 12-volt batteries to store power.
Micro Hydropower System with Spiral Water Turbine under Development (Related JFS article)
http://www.japanfs.org/en/pages/027069.html
Small Hydropower Brings Possibility of Locally Generated Electricity for Local Consumption
http://www.japanfs.org/en/mailmagazine/newsletter/pages/030154.html
Fund Starts Soliciting Investments from Citizens for Small Hydropower Station (Related JFS article)
http://www.japanfs.org/en/pages/030567.html
Marubeni to Revitalize Micro-Hydro Power Plant (Related JFS article)
http://www.japanfs.org/en/pages/030239.html
Posted: 2011/05/22 06:00:15 AM