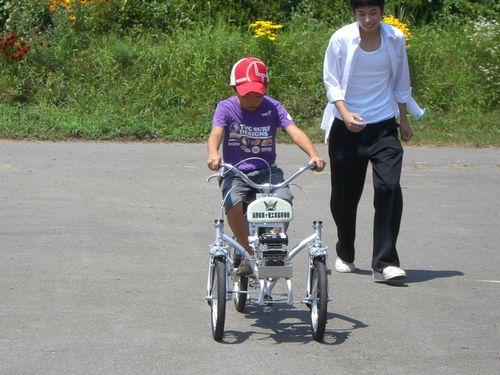 Copyright Komagane Technical High School

Students in the department of electrical engineering at Komagane Technical High School in Nagano Prefecture have developed an electric tricycle for elementary school pupils, which is powered by hydrogen-fuel cells and an in-wheel motor. It was exhibited at the Youngsters' Science Festival in Ina in August 2008, where the students held a test-ride event. They hope that their tricycle, which emits no carbon dioxide, will inspire kids to think more about environmental issues.
The tricycle is driven by an in-wheel motor in the rear, which is powered by the electricity generated through the reaction of hydrogen stored in a cylinder in the front and oxygen in the air. The on-board motor is an outer-rotor type, in which, unlike a conventional motor whose axis rotates, the stator core of this motor is fixed and the outer rotor rotates. Currently, many automobile manufacturers are involved in conducting research and development on this type of motor.

The school launched its research on new energies in cooperation with regional businesses and the local government in 2003. They first manufactured an in-wheel motor in 2005, and then equipped a number of fuel cell-powered cars with it. These developments were inspired by the local community asking for hands-on technologies that would benefit the environment.

Mr. Satoru Seki, the teacher at the school who has led this project, said, "Students that have grown up surrounded by nature in Nagano Prefecture have shown creativity in their product development. I hope that they will use their talents in developing new technologies that help our world be sustainable, and also enjoy the fruits of their efforts." The students have plans to develop a fuel-cell bicycle for adults, as well as to produce fuel cells themselves, and even fuel cell-powered toys.
Posted: 2008/12/28 06:00:15 AM