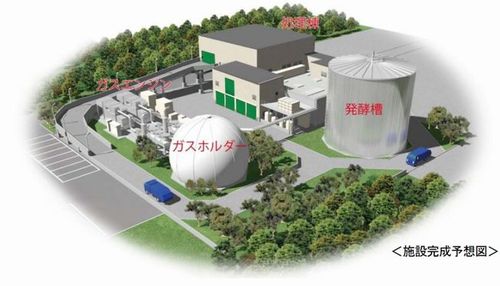 Rendering of a power plant and food recycle facilities.
Copyright 2018 East Japan Railway Co. All Rights Reserved.
East Japan Railway Co. (JR East) announced on March 7, 2017, that it has entered into the biogas production business using food waste as an energy source. JR East has established a new company named "J Bio Food Recycle," in collaboration with JFE Engineering Corporation and plans to sell the electricity from August 2018.
The amount of food waste generated from the company's station buildings and shops in the station premises reaches as much as 50 tons a day in Tokyo and Kanagawa alone. Most of the waste has traditionally been disposed of by incineration, as it is often mixed with fat, salt and packaging materials.
The new company, J Bio Food Recycle, will construct a power plant equipped with food recycle facilities in Yokohama City. In this plant, food waste is fermented by microorganisms, and the biogas produced by this process will be used for power generation. The facility can process up to 80 tons of food waste a day, and the annual power generation is approximately 11 million kWh. This is equivalent to the annual electricity consumption of about 3,000 Japanese households.
The generated electricity will be sold to the JFE Engineering's affiliate companies under the Feed-in Tariff (FIT) scheme. This facility is expected to reduce CO2 emissions by 5,500 tons per year, further promoting JR East's proactive initiative to balance its business activities and global environmental conservation activities.