JFS Newsletter No.188 (April 2018)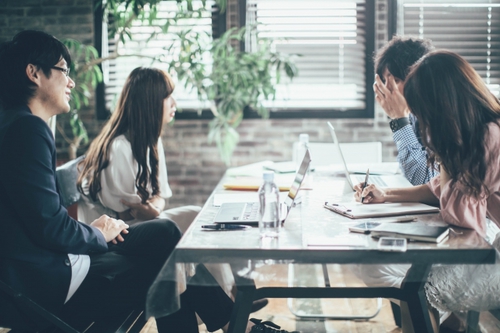 Image by acworks.
The JFS newsletter introduces a selected series of examples of good companies in Japan, referring to the book "Jizoku Kano-na Shihon Shugi" ("Sustainable Capitalism," written in Japanese) by Kazuhiro Arai, director and asset manager of Kamakura Toshin, a Japanese investment company. In this article, we introduce companies that really care about the communities their businesses are based in and one company undertaking business in innovative environmental technologies themselves.
---
Employees Supporting the Community Using Team-Spirit: Miyakoda Kensetsu Co.
Miyakoda Kensetsu is a custom-home builder in Hamamatsu, Shizuoka Prefecture, but it also engages in a variety of community-related activities in and around the Miyakoda area, for example, week-end vegetable farms and a cafe in a renovated unmanned station building.
The greatest advantage Miyakoda Kensetsu has is the tightly bonded team spirit among its employees, derived from the company's strong expectations for personal growth for its employees. "The company is where we learn and get ourselves to grow" is its motto. It has an open culture and egalitarian atmosphere, where employees call each other by nicknames, even when talking with the president or representatives. They feel free to give feedback to each other, including on weaknesses, regardless of their ages, positions or work experience in the company. That is an everyday occurrence here. Everyone wants to learn and get themselves to grow, so advice flows unhindered among them.
A unique attempt to develop the teamwork capacity of the employees is a barbeque held every week in the office with all employees participating. Employees manage to keep the total expense within 10,000 yen (about $93), preparing, eating and cleaning in one hour. The barbeque is also a time they enjoy talking and is a chance to communicate with guests from outside. By being involved in organizing the barbeque, they get to know how to work effectively and help each other autonomously to enhance performance. That boosts employees' motivation and sense of being part of a team tremendously.
Miyakoda Kensetsu has set a goal of "Ecology, Family Ties, and Community Relations." They have thus far tried out various ventures, for example, holding woodworking classes and a sea turtle releasing event, and building facilities to store disaster preparedness materials like hardtack bread or power generators, contributing greatly to the local communities involved. They attempt to transcend the boundaries of their core business, approaching local municipalities' fields of work, based on the principle that home builders exist for the sake of families and local communities. Employees' personal growth and teamwork spirit, enhanced through the weekly barbecue, has influenced the local communities together with whom they are working to boost local vitality and value.
Launching Subsidiary to Contribute to a Local Community: Tsumura & Co.
Tsumura & Co., based in Tokyo, has a 125-year history and its "Kampo" traditional Chinese herbal medicines, imported from China and processed in Japan, account for more than 80 percent of the Japanese market. This company actively employs workers with disabilities. In the fiscal 2009, Tsumura formulated a three-year plan for inclusive employment under the leadership of its president at the time, and the employment rate of workers with disabilities rose to 3.93 percent by the end of March 2012. Since then, the company has continued its efforts to create a comfortable and friendly working environment for its employees and maintain employment of workers with disabilities in the three percent range, exceeding the legally-required rate of two percent.
Note: From April 1, 2018, the legally-required minimum rate of disabled worker employment has been raised to 2.2 percent.
Tsumura established a subsidiary, Yubari Tsumura, in 2009 in Yubari, Hokkaido, the northernmost island of Japan, as a base for its Kampo business for all of Hokkaido. Yubari was going bankrupt as a municipality at the time, but its location was suitable for growing, procuring, processing and storing herbal medicine. Tsumura's idea was to support the local community in Yubari by establishing a facility for herbal medicines, and it hoped to create an affluent local community by working with local farmers.
The reason Tsumura established this subsidiary as an independent company instead of establishing a Tsumura branch office is that the new subsidiary would pay corporate taxes to Yubari. Tsumura created a scheme to contribute to the city simply by focusing on its main business. In addition, executives and some employees of Tsumura's headquarters in Tokyo have donated to the city through a "hometown tax" donation program every year.
In 2010, Yubari Tsumura signed a consignment contract for herbal plant cultivation with Temiru Farm Co., which was established to support the economic independence of people with intellectual disabilities. This partnership, which created job opportunities for workers with disabilities, was very well received, and was later awarded the Minister of Economy, Trade and Industry Prize, winning the Second "Japanese Companies Which We Want to Cherish Most" Award in 2012.
Thus, Tsumura creates value for local communities such as increased tax revenues for a local municipality and broader job opportunities for people with disabilities through efforts derived from its own profit-making business.
Recycling Business Model Working with Major Retailers: JEPLAN, Inc.
JEPLAN, Inc., in Tokyo, is a company specializing in the recycling of unused clothes and plastic items. The company also develops new recycling technologies and operates a consulting business. Cotton is recycled into bioethanol, plastics into oil, and polyester clothes into new polyester fiber, thereby recycling waste into fuel and materials.
A major challenge in launching a business utilizing innovative environmental technologies is to create a business model. Whether the business model works out or not is a big test of any company that tackles environmental or social problems.
The challenge facing JEPLAN was to create a mechanism to collect materials for recycling from consumers that wouldn't be burdensome. To meet this challenge, the company located collection boxes at major supermarkets, clothing stores and sundry articles shops, and established a scheme for shoppers to bring along used clothes and plastic products when they went shopping. The stores and shops involved could enjoy the advantage of increased customers and sales while contributing to eco-friendly activities.
JEPLAN has succeeded in turning mountains of waste into mountains of treasures by making its recycling system into a business and then involving society in the business swiftly and dynamically. The company says that most plastic items being produced in Japan will be available for recycling if the recycling business continues to expand its involvement with society. The example of JEPLAN discovering common values between companies and society will inspire great hope among companies tackling social issues.
---
In this article, we have introduced examples of companies that support local communities through business and one company that has successfully incorporated a socially effective structure into its business model. In upcoming articles, we will cover more "good companies" in Japan from different perspectives. Please stay tuned!
See also: "Good Companies in Japan" (Article No. 1): Valuing Employee Happiness and Trust
https://www.japanfs.org/en/news/archives/news_id035984.html "Good Companies in Japan" (Article No. 2): Seeking "Happiness" for All Stakeholders
https://www.japanfs.org/en/news/archives/news_id036022.html

Edited by Noriko Sakamoto