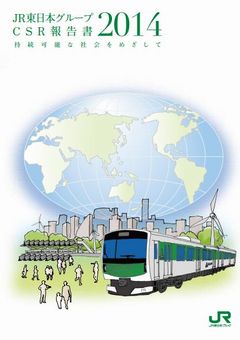 Copyright East Japan Railway Company All Rights Reserved.
East Japan Railway Company (JR East Group) released its 2014 CSR Report on September 18, 2014, covering the company's business from the perspectives of environment, safety and society. The following are the projects on a special topic about energy and environmental strategy, one of the major issues in the report under "JR Group Management Vision V: Ever Onward," a new management plan JR East formulated through experience derived from the Great East Japan Earthquake.
1) Accumulator system (ACCUM), a battery-powered train system
JR East started commercial operation of the EV-E301 series cars with a high-capacity accumulator for the main circuit, called ACCUM, on the Karasuyama Line in March 2014. This led to a reduction of environmental impacts in non-electrified zones.
2) Large-scale solar power generation facility (Mega solar power plant)
A mega solar power plant was installed with a capacity of 1,050 kilowatts on the grounds of the Keiyo Rolling Stock Center and started operating on February 28, 2014. Reduction of CO2 emissions by around 500 tons per year is expected. The company also installed a four-megawatt solar power generation facility between Tomobe and Uchihara on the Joban Line and plans to start operating it within fiscal 2014.
3) Installation of more renewable energy
Focusing on the northern Tohoku area, the company started investigating wind conditions between Michikawa and Shimohama on the Uetsu Main Line in Akita Prefecture in March 2014 to study the viability of wind power generation. In Aomori Prefecture, the company is conducting a feasibility study on thermal power generation in the northwestern Hakkoda region in collaboration with a university and government agencies.
The company is concentrating its resources on the three areas of saving energy, power generation (renewable energy) and smart grid technologies, in order to advance railways in terms of environmental safety as well as other areas.