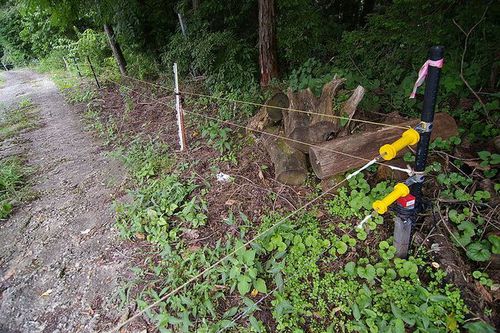 Image by takami torao.
Simple and easy-to-install micro hydro generators are being introduced on a broad scale in Yamaguchi Prefecture, Japan on July 26, 2017. One newly installed generator recently began operating in an irrigation canal in the Shiota district of Hikari City, located in the southeast area of the prefecture.
The installation was done by Hikari City Chikurin-kai, a group engaged in conservation of nearby "satoyama," rural areas comprising flat farmland set against forested hills. The group purchased and installed a simplified-type micro hydro generator made by local manufacturer Taiko Kikai Industries. The total installation cost of 300,000 yen (about US$2,700) was subsidized by the Seven-Eleven Foundation.
The generator generates 4.8 watts of electricity from a head of 0.8 meters and flow of four liters per second. The electricity is supplied to some 3,000 meters of electric fencing and to LED lighting used as street lamps. These systems are for protecting local produce from wild animals such as boars.
It was the eighth small-scale hydro generator introduced in Yamaguchi. Other communities are using the electricity procured from micro hydro generators set in irrigation canals to protect farmland from boars and monkeys and to illuminate school routes. They offer good examples of the utility of small-scale hydropower as an independent power source, one that can bring electricity to areas beyond the reach of conventional sources.
Source: Smart Japan (in Japanese)