JFS Newsletter No.179 (July 2017)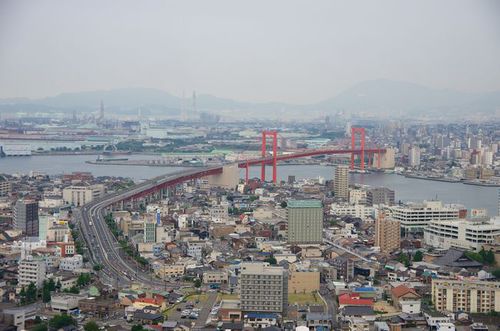 Image by yuki5287. Some Rights Reserved.
Kitakyushu City is located at the northern end of the island of Kyushu on the western side of the Japanese archipelago, and has developed into one of Japan's leading heavy industrial areas and international trade ports in modern times. This is after it experienced serious pollution problems caused by industrial wastewater and air pollution in the 1960s. The municipal government worked very hard together with businesses and citizens to solve the problems. For its efforts to create a low-carbon society, the city was selected in July 2008 to be an Eco-Model City and in December 2011 to be a Future City (two environmental city programs by the Japanese government). Based on its past experience, Kitakyushu can now draw upon its significant resources in pollution control technologies, 3Rs (reduce, reuse and recycle) experience, and energy-efficiency technologies.
JFS Newsletter No. 80 (April 2009)
Efforts by Eco-Models in Japan -- Part 2
http://www.japanfs.org/en/news/archives/news_id029000.html
To help conserve the threatened global environment and create a sustainable society by mobilizing these resources for use around the world, Kitakyushu City opened the Asian Center for Low-Carbon Society in June 2010. This month's JFS Newsletter features Kitakyushu's efforts to promote a low-carbon society in Asia through environmental business approaches.
The Kitakyushu Model
Kitakyushu City has created what it calls the "Eco-Town" initiative. With nine research facilities and 25 recycling businesses, the program's intent is to establish a resource-recycling society that utilizes all waste as raw material for other industries, and ultimately aims to reduce waste completely (zero-emissions). The city adopted the Kitakyushu Eco-Town Implementation Plan to set the direction for basic initiatives and start its own regional policy, integrating environmental and industrial promotion policies. The program has four features:
establishment of community programs that facilitate recycling businesses;
an integrated approach to basic research, technological development, and commercialization;
receiving waste from a wide region; and
information disclosure and platforms for environmental education.
Kitakyushu City developed what it calls the "Kitakyushu Model," a systematic approach to planning based on its know-how in urban and environmental management, including the Eco-Town initiative. It offers the concept of master plans for sustainable urban planning to meet the needs of emerging economies, and promotes the "export" of ideas about green cities (smart communities).
In December 2011, Kitakyushu and its neighboring city of Fukuoka were designated as a "Green Asia International Strategic Comprehensive Special Zone" under another program of the national government. These zones offer Asian cities "packages" of environmental technology and social systems that have been developed in Japan through collaboration between the public and private sectors. The two cities aim to serve as a base for expanding green innovation from Asia to the rest of the world. The goal is to create about 5 trillion yen (about U.S.$45 billion) in additional revenues through new market development by 2020, accounting for about 10 percent of the national program's goal of over 50 trillion yen (about $450 billion).
Previous JFS articles have introduced Kitakyushu's initiatives to promote green city development in Asia.
---
'Kitakyushu Model' for Green City Development Published in Three Languages (November 20,2013)
http://www.japanfs.org/en/news/archives/news_id034461.html
The Kitakyushu Asian Center for Low Carbon Society, established and operated by Kitakyushu City in Fukuoka Prefecture in partnership with stakeholder organizations in the city, announced on September 3, 2013, that it has developed the "Kitakyushu Model" for green city development by systematically organizing development know-how based on its own experience. This is the first methodology ever developed in Japan as a development model for helping Asian cities reduce carbon dioxide emissions and grow sustainably.
The Kitakyushu Model includes urban development expertise, case studies, and a tool kit. The urban development expertise component encompasses four environmental fields: waste management, energy management, water management, and pollution management. The case studies showcase examples such as Kitakyushu Eco-Town, which has a high concentration of recycling plants, and the tool kit contains a checklist that can be useful for master plan development. The model was published in three languages (Japanese, English and Chinese) and is available on the Internet.
Kitakyushu sees the promotion of urban infrastructure businesses that contribute to sustainable development in Asia as a core initiative in its new growth strategy. As part of such efforts, the city plans to promote the export of integrated urban environmental infrastructure systems through its participation, from the master planning phase, in the development of such cities as Surabaya in Indonesia (Kitakyushu's Green Sister City) and Haiphong in Vietnam (with which Kitakyushu has concluded an exchange agreement) using the Kitakyushu Model.
---
Kitakyushu's Support for Green City Development Helps Businesses Expand in Asia (May 23, 2014)
http://www.japanfs.org/en/news/archives/news_id034913.html
The Kitakyushu Asian Center for Low Carbon Society, established in June 2010, has actively supported the efforts of local companies to expand their businesses overseas. In so doing, the center uses the Kitakyushu Model that it developed by organizing its development know-how in order to support green city development in emerging economies, particularly those in Asia. The center also operates joint projects with businesses while utilizing the national government's support systems and helping businesses receive financial assistance.
According to its activity report as of the end of fiscal 2013 (March 2014), the center has worked on 50 research projects, including those in the process of concluding a contract, to obtain a total of some 2.6 billion yen (about $25.2 million) in funds from the Japanese government, as well as eight projects using subsidies from the city worth some 31 million yen (about $300,000). Past projects include 16 waste management and recycling projects, 19 water management projects, seven energy projects, five projects to tackle global warming, and three community-building projects. They were implemented in Indonesia (18 projects), China (11), Vietnam (8) and Cambodia (9), among others.
The center has supported about 65 companies, four of which have succeeded in launching their operations elsewhere in Asia. Kitakyushu is focusing on the export of environmental infrastructure systems ahead of other local governments, with the idea that taking part in the early phase of master plan development will make it possible to propose urban development using corporate technologies, and to develop an environment that facilitates an expansion of business operations.
---
Examples of International Environmental Cooperation and Business Projects
How is Kitakyushu City helping green city development in Asia? We present examples in two cities.
(1) Surabaya City, Indonesia
Kitakyushu in Japan and Surabaya in Indonesia have been cooperating since 1997 when the Environmental Cooperation Network of Asian Cities was established. In 2002, supported by the Japan Bank for International Cooperation, the two cities conducted a survey on waste to tackle the challenges of waste recycling in Surabaya.
Knowing that organic materials accounted for 50 percent of Surabaya's total waste, a J-Power group company started composting project involving the participation of citizens. As a result of the project, Surabaya's waste volume was reduced by 32 percent and the citizens developed a new awareness about the environment.
Surabaya City previously sent 1,200 tons of household waste directly to the landfill every day. To remedy the situation, Nishihara Corporation established a recycling facility to sort waste into valuable resources, organic waste, and other categories. The company has turned waste recycling into viable business operations by selling valuable resources to recycling businesses, producing compost from organic waste, and converting some of the other materials into things like coal-alternative fuel. The efforts have reduced the volume landfilled to just a quarter of what it was originally.
Other companies in Kitakyushu are developing businesses involved in electricity cogeneration and energy conservation, drinking water supply, and environmental sanitation projects.
To further their good relations, Kitakyushu and Surabaya concluded a green sister city agreement in 2012. Aiming for green, low carbon society, the cities are currently working together on integrated urban development, including establishing community programs and changing citizens' awareness.
(2) Fraser's Hill in Malaysia
Fraser's Hill is a major tourist spot in Malaysia that had a pressing need to solve three problems: a landfill site that was close to full capacity, the costs and impacts of transporting waste 50 kilometers to the landfill, and the contamination of groundwater.
Kitakyushu City helped Fraser's Hill improve its waste management capacity by providing consulting services to Perbandanan Pengurusan Sisa Pepejal dan Pembersihan Awam (PPSPPA), in collaboration with Hibikinada Development Co., a semi-public corporation owned partly by Kitakyushu, the Merry Corporation, and Kitakyushu City Environmental Preservation Association. This project was conducted as one of the Grassroots Technical Cooperation Projects by the Japan International Cooperation Agency (JICA).
The project in Fraser's Hill established a separate collection and recycling system for recyclable waste, as well as a system to collect and compost food waste from businesses. The project also investigated the contamination at a previously-used landfill. Based on the results, it developed environmental guidelines, and proposed a way to extend the service life of the current landfill. These activities helped raise environmental awareness among the local personnel.
International Environmental Cooperation and Business
In supporting the creation of green cities in Asia, Kitakyushu is trying to gradually expand its international environmental cooperation into business initiatives, in partnership with governments and international organizations. To achieve win-win results, the city builds relationships, adapts business models, and encourages commercial applications, all by using unconventional processes which it hopes will be appreciated by local communities and well-suited to each region.
With these conscientious efforts Kitakyushu is revitalizing its local companies and communities through overseas business operation. Meanwhile, Kitakyushu is helping partners in Asian countries decrease their CO2 emissions, reduce environmental pollution, and improve the quality of life. We hope that such efforts will contribute to the creation of a sustainable society in Kitakyushu, other Asian cities, and the rest of the world.

Written by Yuka Kume