JFS Newsletter No.80 (April 2009)
In our last issue, we introduced the initiatives of three of the Eco-Model Cities selected by the Japanese government in July 2008 - Yokohama City (Kanagawa), Toyama City (Toyama), and Shimokawa Town (Hokkaido). In this issue, we present initiatives by Kitakyushu City from the big-city category, Obihiro City from the provincial-capital category, and Minamata City form the small-town category, based on their presentations at the International Seminar on Promoting the Eco-Model Cities for the Low Carbon Society on December 14, 2008.
--------------------------
Kitakyushu City: An Environmental Frontier City in Asia
Presentation by Kenji Kitahashi, Mayor of Kitakyushu City
http://www.kantei.go.jp/jp/singi/tiiki/kankyo/seminar2008/
16kitakyushu.english.pdf
As one of Japan's leading industrial cities, Kitakyushu City, Fukuoka Prefecture, has contributed to Japan's economic growth since before the Second World War and also played a major role in trade, thanks to its close proximity to other Asian countries. However, in the 1960s, environmental pollution emerged as a serious issue in Kitakyushu. The city successfully dealt with these issues, and was described as having changed "from a gray city to a green city" in a 1985 report by the Organization for Economic Co-operation and Development (OECD). A good partnership between the citizens and the city was the deciding factor in the city's swift turnaround towards restoration.
The women of Kitakyushu took the first step by calling on factories to prevent further pollution. The act of bringing to light the factories' responsibility for pollution was very brave, because in many cases their husbands worked for the same factories. These women uncovered the realities of pollution on their own initiative, and took action aimed at adopting a practical approach. This stimulated the city, the related companies, and the national government to take positive action to deal with the pollution issue. Companies in Kitakyushu began considering ways to prevent pollution and thoroughly revamped their entire production processes. In this way, Kitakyushu City successfully overcame environmental pollution problems, while avoiding slower economic growth.
Later on in following up on these efforts, Kitakyushu citizens have made major contributions to the solution of other environmental issues, both domestically and internationally, and to significant progress in the transfer of environmental technology to other countries in Asia. So far, the city has already accepted more than 5,000 trainees in related fields from foreign countries. Moreover, the city developed Eco-Town, Japan's largest research base for the recycling industry, leading the effort in Japan to create a recycling-oriented society, and is now promoting a Cleaner Production (CP) project, which combines increased productivity in the course of implementing environmental measures. The city invested 120 billion yen (US$ 12.2 billion) in its recycling industry, which created jobs for 1,300 citizens.
Establishing a low-carbon society is a so-called "social revolution," which requires comprehensive action affecting city structure, industrial structure, citizens' lifestyles, transportation, and other specific factors. The driving force for these revolutionary changes is citizen power on environmental issues. Kitakyushu City will be promoting the creation of a low-carbon society in the following four main categories.

First, it is focusing on how to change the city structure. Its Yawata-Higashida area is the birthplace of the Japanese iron and steel industry and also suffered from the most severe pollution in the city. Yawata-Higashida started an eco-city planning initiative in 2002 in which developers, local factories, citizens, IT companies, non-profit organizations (NPOs), universities and others have forged a common understanding by holding continuous discussions on how to develop the area in an environmentally conscious way.
Various activities are already under way, such as using surplus electricity generated in factories and building eco houses that reduce carbon dioxide (CO2) emissions by 30 percent. A Hydrogen Energy System was introduced in 2008 in which hydrogen generated as a by-product in factories is supplied by pipeline to a "Hydrogen Town Project." There are also plans to build an eco-friendly residential area with eco-houses including homes that are potentially sustainable for 200 years. Some "200-year houses" will soon be completed in Kitakyushu - the first of their kind in Japan. In addition to eco-housing, solar power generation, and improvements to the public transportation system, the city has also recently launched a 200-Year City Planning project that aims to provide an environment where citizens do not need a car, but can get around on foot. The goal of the 200-Year City project is to create a society that can put to use individual and social assets over a long time frame, accumulating assets and resources over several generations.
Second, the city has made efforts with respect to the industrial sector. A great deal of surplus energy in the form of heat, electricity, and hydrogen are generated in local factories, and so the city promotes making as full as possible use of this energy through
local consumption.
The third point is to develop human resources. After being designated an Eco-Model City, Kitakyushu City's first move was to embark on a project to plant one million trees. As the city has a population of one million, if each citizen joins the project by planting a tree on his or her birthday or dedicated to loved ones or family members, the project's goal will be achieved in just one year. If the project can continue at this pace, in 10 years the city will have 10 million more trees, and in 20 years it would become a veritable jungle! This may be an overstatement, but the city has started earnestly promoting the tree planting project by involving citizens, companies and the city government. It is encouraging citizens to take action for a better environment and to be more environmentally conscious, hoping to further strengthen citizen power.
The fourth point is to contribute to other countries in Asia. Taking advantage of its location, Kitakyushu City has been forging good relations with other Asian countries for a long time, through trade and technical exchanges. The city will continue to assist other Asian cities, which are among the top priority areas for global environmental issues.
Local governments everywhere are now facing extremely severe financial and economic conditions. However, as is often said, crises often provide unforeseen opportunities. Local governments should make every effort to advance environmental measures as a central pillar of economic policy. Kitakyushu City believes that it made reference to a Green New Deal before the U.S. President Barack Obama adopted the phrase. Kitakyushu hopes to make further progress, confident that it can overcome its economic problems by promoting Green New Deal initiatives.
--------------------------
A Rural Eco-Model City, Obihiro
Presentation by Toshifumi Sunagawa, Mayor of Obihiro City
http://www.kantei.go.jp/jp/singi/tiiki/kankyo/seminar2008/06obihiro.english.pdf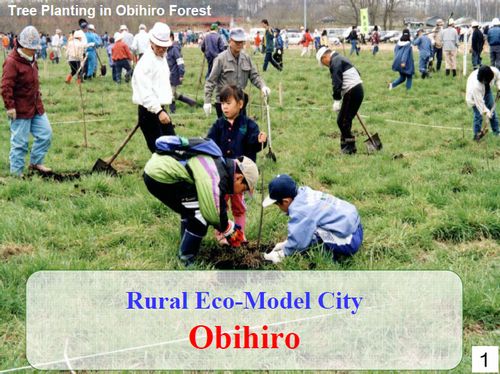 Source: Cabinet Secretariat

Obihiro is a rural city with a population of 170,000 located in the center of Tokachi Plain, a large scale agricultural and livestock farming area in the eastern part of Hokkaido. It occupies about 620 square kilometers, of which 36 percent is farmland, 42 percent is forest and 7 percent is urban land. Since the food self-sufficiency ratio of the whole Tokachi Plain area, including Obihiro City, is as much as 1,100 percent on a calorie basis, the area rightly boasts its high agricultural productivity and is one of Japan's main food supply areas.
In 2000, the city emitted 1.38 million tons of CO2; about 50 percent came from the non-industrial sector and 30 percent from the transport sector. In the non-industrial sector including households and offices, Obihiro's main source of CO2 emissions is heating originating from fossil fuels, such as electricity, kerosene and heavy oil; heating accounts for about 90 percent of this sector's total. A shift away from fossil fuel use for heating is needed; possible measures include better insulation for homes and buildings, installing renewable energy systems such as solar power generation, and using local biomass resources.
Obihiro's Eco-Model City initiatives fall into five main areas: (1) living spaces, greening, and town development, (2) farming and food, (3) resource and energy creation, (4) creating a pleasant and energetic city, and (5) environment-friendly living. The city set a target of reducing its CO2 emissions by more than 30 percent as of 2030 and by half as of 2050, compared with 2000 levels.
In the area of "living spaces, greening, and town development," the city has a 100-year plan to create a forest through citizen action. This plan was adopted more than 30 years ago and the forest creation movement seems to have taken root among citizens. As for "farming and food," the city promotes low-carbon agriculture by encouraging no-tilling farming (including reducing tillage) in order to store more carbon in the soil. This farming approach has already shown good results in test areas amounting to about one hundred hectares of farmland.
Efforts for "resource and energy creation" by Obihiro City include projects to utilize the rich local biomass resources, by composting agricultural waste from bean crops and cow manure, or processing wood waste into fuel pellets. It also intends to use other local resources by recycling waste from food processing and fruit sorting into livestock feed, and refining used cooking oil from households for biodiesel fuel (BDF).
As for "creating a pleasant and energetic city," Obihiro City is redirecting itself to become more compact by effectively utilizing its well-developed central area in contrast to past trends towards urban sprawl. As for "environmentally friendly living," the city is working with all its citizens to encourage them to adopt a more environment-conscious mindset and more sustainable lifestyles by promoting the use of household environmental accounting books, wood pellet stoves, and environmentally conscious behaviors such as carrying personal chopsticks, water bottles and shopping bags.
--------------------------
Striving to become a Sustainable Model City: Promoting Both Economic and Environmental Development
Presentation by Katsuaki Miyamoto, Mayor of Minamata City
http://www.kantei.go.jp/jp/singi/tiiki/kankyo/seminar2008/14minamata.english.pdf
Minamata City is located in the southernmost area of Kumamoto Prefecture and has a population of 29,000. Its total land area is 162 square kilometers, about 75 percent of which is forested. The city has a horrific history of suffering from organic mercury poisoning - as a result known as Minamata Disease - during Japan's rapid economic growth in the 1960s and 1970s. Minamata Disease patients suffered not only from the excruciating pain of the disease, but also from prejudice, discrimination, stigmatization and other psychological abuse. It has been over 50 years since the disease was officially recognized, but the physical and psychological pain of the disease still remain, as there are still many patients ill with the disease in Minamata City.
Starting from its painful experiences from environmental destruction and pollution, Minamata City was the nation's first city to declare its intention to develop into an "environmental model city," in 1992. Since then, the joint efforts of citizens and the city government have laid the groundwork for a city founded on environmental protection. First, the city started to sort garbage into 20 categories with the help of citizen volunteers. At the city's comprehensive center of recycling facilities, Minamata Eco Town, these wastes are recycled into valuable resources. Although the crisis of Minamata Disease once tore the community fabric to shreds, sorting out wastes at recycling stations served as a communication platform to bring people back together.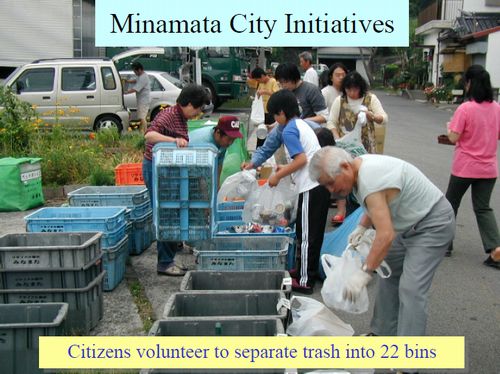 Source: Cabinet Secretariat

Getting Over Minamata Disease - Minamata City Works to Become Model Environmental City
http://www.japanfs.org/en/mailmagazine/newsletter/pages/027936.html
Minamata City has set targets of reducing CO2 emissions 32.7 percent by 2020 and over 50 percent by 2050, compared with the 2005 levels. The city pursues various programs in the following four categories: (1) implementing an eco-conscious lifestyle, (2) building industry dedicated to the environment, (3) environmental urban development in harmony with nature, and (4) developing urban environmental education.
Under "implementing an eco-conscious lifestyle", the city promotes reducing, sorting and recycling its garbage. The city now sorts wastes into 22 categories. About 300 collection/recycling stations have been set up throughout the city, and residents voluntarily participate in separating the garbage. This is one of the city's measures for CO2 emissions reduction.
Minamata City is also promoting development based on environmental ISO standards on a regional level. After acquiring ISO 14001 Certification in 1992, the city developed a simplified version of the standards for households and schools to promote savings in energy and resource use. The city also certifies environmentally conscious "Eco-Shop" stores, which take measures such as eliminating disposal of polystyrene packaging, and also "Environmental Masters," people who have created eco-friendly and/or health-conscious products.
In the category of "building Industry dedicated to the environment," Minamata City is involved in the production of alternative fuels such as bioethanol from unutilized local resources such as bamboo. Regarding "environmental urban development in harmony with nature," the city promotes planting and managing forests in the expectation of creating an effective carbon sink, and facilitating the growth of seaweed to restore marine areas once polluted by methyl mercury, the cause of Minamata Disease.
Minamata City has pursued these projects on the basis of hand-in-hand cooperation between citizens and the city government, carried out through discussions on how to promote these actions with minimum cost and maximum output. The city and its citizens remain dedicated to turning around its negative heritage of Minamata Disease and instead creating a positive heritage for future generations.
Edited by Junko Edahiro