JFS Newsletter No.153 (May 2015)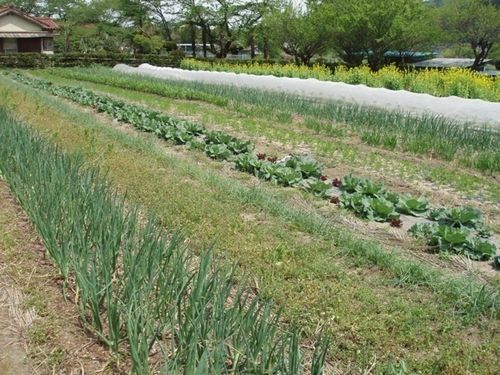 Copyright Junko Owada All rights reserved
On February 9, 2015, Japan for Sustainability (JFS) held a symposium on the theme of "What local initiatives can lead to their own survival? -- From the viewpoint of local economy and development," as part of JFS's Local Well-Being project. At the symposium, people who are playing leading roles in local community development gave presentations on their efforts. This issue of the JFS newsletter will introduce a presentation by Junko Owada (sustainable community producer) on cases of economic development based on "satoyama," areas of community-based forest and surrounding countryside.
---
I was born and raised in Tokyo, but in recent years I've been spending about 150 days a year traveling around Japan. Today, I want to share some information about initiatives ongoing in some of the local communities I visited.
I used to work in the distribution industry. Have you ever heard of LOHAS? In 2002, I wrote an article about LOHAS (an acronym of Lifestyles of Health And Sustainability) for Nihon Keizai Shimbun (the Japan Financial Times, Japan's leading economic newspaper), which is said to have been the first article about LOHAS published in Japan. Since around 2008, I have had many opportunities to visit local communities, where I interview people about organic farming and local community development. Based on these interviews, I released a book "Agri Community Business" in February 2011. Since the Great East Japan Earthquake on March 11, 2011, I have helped some affected areas to build communities based on organic farming, biodiversity, and renewable energies. I am also a member of an expert committee on Globally Important Agricultural Heritage Systems at Japan's Ministry of Agriculture, Forestry and Fisheries.
I think it is important to develop the economy based on satoyama communities, and shift away from conventional society based on mass production/mass consumption and heavily dependent on petroleum, towards a society that places emphasis on renewable energies, local resources, and local production. Based on this concept, I have worked with people in local communities to help them develop their economies using their local resources. We have promoted this work based on a common awareness that "Good health is not only for local people but also for local communities and the environment," and "Sustainability is compassion for future generations and developing countries."
Community is one keyword in my work, and I think urban communities are usually in a more serious situation than rural communities. When the Great East Japan Earthquake occurred, gasoline was not available and there was no rice was to be had at any supermarket [in Tokyo]. Since then I have felt anxious about how distant we are from farmers, while not knowing when and where an earthquake will occur. So, after the earthquake, I stocked up on food and checked out serveral evacuation spots in different directions from my home.
In the case of rural communities' initiatives, their futures are greatly influenced by their leadership and the vision of each local government head, but the main players are still local people, and their future will depend on their enthusiasm. I want to support women in particular, so I call on the ladies, saying, "Let's develop for the future of the community," and talk a lot with them. Of course, I also talk with the men over drinks.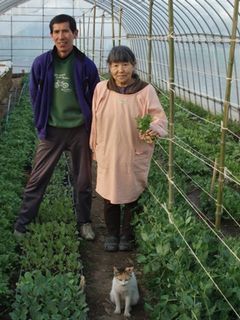 Copyright Junko Owada All rights reserved
To give some actual examples, I will first introduce an initiative of Ogawa Town, Saitama Prefecture. This town is located about 50 kilometers from central Tokyo, and this enables people living in urban and rural areas to interact with each other. Yoshinori Kaneko, who lives in the Shimozato district of Ogawa, launched organic farming in 1971. One Japanese term for "organic farming" (yuki nogyou) was also coined in 1971. Kaneko has continued using this type of farming method for more than 40 years at his Frostpia Farm, a three-hectare idyllic farm with cows and chickens. His basic philosophy is "achieving self-sufficiency in food and energy by harnessing resources existing in the neighborhood, without depending on industrial products or petroleum."
Every year, Kaneko's farm accepts some trainees who learn farming while living under one roof for a year. Graduates are now standing on their own two feet all across Japan. Many seem to select the half-farmer/half-X lifestyle -- growing food for themselves while making a living on other skills.
Upon hearing about Kaneko's farm, many people want to buy the vegetables produced there, but they are not sold in supermarkets in urban areas, and in fact most are not sold in retail stores at all. So, where are they sold? They are sold in direct cooperation with consumers. Recently, the term Community Supported Agriculture (CSA) has gradually become known in Japan. In fact, the type of farmer/consumer (TEIKEI) cooperation originally started by Kaneko was introduced to the U.S. and later brought back to Japan in the form of CSA.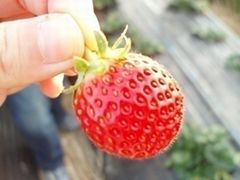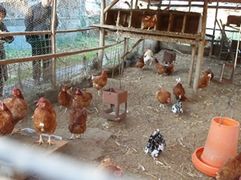 Copyright Junko Owada All rights reserved
Thus, an individual effort by Kaneko led to the introduction of organic farming into the entire community 30 years later. In 2010, this effort was awarded the Emperor's Cup in the Community Building Category of the Agriculture, Forestry and Fisheries Festival, the most prestigious prize awarded by the Ministry of Agriculture, Forestry and Fisheries. Recently, Japan's Imperial couple visited the Shimozato region of Ogawa Town, and local residents were very pleased to receive their visit.
At the farm, a variety of vegetables are grown in low volumes in non-monoculture fields. Leafy greens are planted next to green onions, which help keep pests away. A wood boiler is used for under-floor heating. Kaneko's house was built from 80-year old Japanese cedars and cypresses growing on the hills behind the site.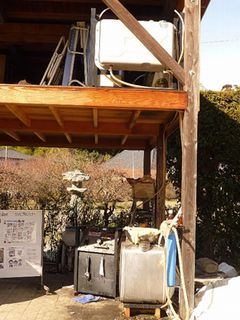 Copyright Junko Owada All rights reserved
The farmyard is full of machines and tools, including machines that produce liquid fertilizer and gas from cattle feces, human excrement, raw garbage, etc., and the farm has recently started producing electric power using this gas. Large-scale cogeneration biomass power generation systems can be complex, but this system is small enough to grasp easily. There are also refiners for waste food oil which produce oil (straight vegetable oil) used as fuel for tractors, cars and other vehicles. A system for living that does not depend on petroleum for energy and fuel is nearly complete.
Since around 1988, agricultural products organically grown in the Shimozato region and processed products made from them, including rice & Japanese sake, soybeans & tofu, have formed a foundation for the local economy. Taking rice as an example, in 1988 the Japan Agricultural Cooperatives (JA) bought it at around 200 yen (about USD $1.67) per kilogram, while a local sake brewery bought it at 600 yen (about USD $5.00) per kilogram. The same applies to soybeans. JA buys them at around 300 yen (about USD $2.50) per kilogram, while Tofu Kobo Watanabe, a tofu workshop located in a neighboring town, buys it at 500 yen (about USD $4.17) per kilogram. If agricultural products can be bought at prices that encourage farmers to grow them again or work harder next year, the local economy becomes sustainable.
In this way, all farm produce, including rice, soybeans and wheat, are organically grown in the community and used by various local businesses. The annual sales of Tofu Kobo Watanabe amount to about 350 million yen (about USD $2.9 million). Since its products are sold only at its local shop, some urbanites take the trouble to visit the town to buy tofu. I wish this tofu were sold at department stores, but the company says it will sell its products only in the local community.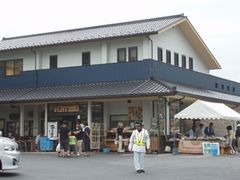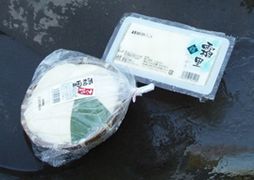 Copyright Junko Owada All rights reserved
Tofu Kobo Watanabe endeavors to produce traceable tofu based on face-to-face relationships in which the people who produce the soybeans and make, deliver, buy and eat the tofu all know each other. Company president Kazumi Watanabe has every confidence in Kaneko and buys all soybeans produced in the Shimozato region. This single tofu producer buys 60 to 100 tons of soybeans annually. "So, we must sell tofu," says Watanabe, who is making every effort to develop new products. Every time I go to the shop, new products are being sold or events are being held and I always learn a lot.
Ogawa Town is also well-known for its washi Japanese paper, and has local brand breweries and other unique stores. Tours and study sessions are also held using an old schoolhouse of the former Shimozato Branch School, a wooden building with a nostalgic air attractive to city people.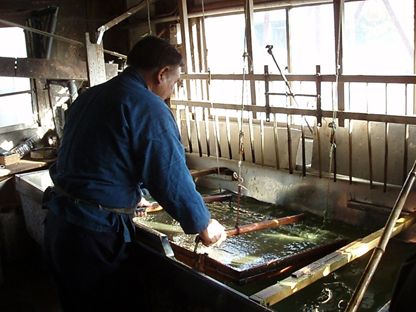 Copyright Junko Owada All rights reserved
Three years ago, Kaneko initiated a discussion with other local people on how to create a mechanism to promote more interaction between people in urban and rural areas and opportunities for young people to play active roles in the community. This led to seminars on organic vegetables and a system to lease vegetable garden plots to promote organic farming. It's been four years since I terminated the lease of an expensive vegetable garden in Tokyo and started vegetable farming in Shimozato, Ogawa Town.
Kaneko always says "If farmers are energized, the village becomes beautiful." I visit Ogawa Town every year and I find the town is becoming more beautiful every year.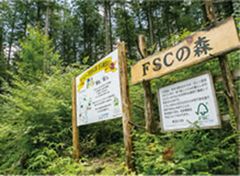 Copyright Junko Owada All rights reserved
Another example I want to share is Higashi-shirakawa Village, a small town in Gifu Prefecture with a population of 2,400. This town markets a brand of cypress wood called Tono Hinoki and the forest where the cypress trees are grown is certified by the Forest Stewardship Council (FSC). I met members of a local non-profit organization (NPO) who told me that they want to establish a new mechanism to interact with people in urban areas. So, I introduced them to a business hotel chain, Super Hotel Co., Ltd., which is headquartered in Osaka City.
In 2007, I launched a group called the LOHAS Business Alliance. It's a group of businesses supporting companies and people in urban areas who pursue LOHAS. The chairman of Super Hotel is a member of this group, and told me he wants his business hotels to pursue LOHAS. Super Hotel is the only company in the hotel industry certified under "Eco First," a program implemented by the Ministry of the Environment to approve companies that commit to environmental conservation activities and act as role models in their respective industries. The Super Hotel chain is a middle-size enterprise, operating 106 hotels nationwide. The company is working hard to improve the quality of their management and has received various awards.
The Super Hotel chain also carries out carbon-offset activities. However, since the company needs a huge amount of credits, it uses foreign carbon offset credits, which are about ten times cheaper than domestic credits. Thus I learned that the company wishes to use domestic credits as far as possible, so I introduced them to Higashi-shirakawa Village.
The hotel chain decided to take advantage of the FSC certification of the village forest to offset carbon dioxide emitted from two of its hotels in Gifu Prefecture. The company also conducted training programs in the village for new employees in 2013 and 2014 because it wanted its employees to see the actual forest and to do something tangible there so as to better understand the significance of carbon offset, which is, in a sense, an intangible activity.
During the training program, hotel employees had the opportunity to watch the process of cutting down cypress trees and helped chop the branches and leaves off from the logs with saws. Then they brought the cut branches and leaves to the local forestry cooperative where essential oil was extracted. Now, the company is considering using this essential oil in its hotels.
Each training program also included a workshop to consider "what kind of contribution can Super Hotel make?" Creating shared value (CSV) is a concept that deals with the process of people in urban and rural areas working together to find solutions for local issues and create new values: based on this concept, workshop participants designed new items using the resources available in the village. The first item workshop participants created was a cypress chair to be used in the common bath facilities of its hotels. A message, "We support Higashi-shirakawa Village," is branded on the chairs. In addition, they made pillows using cypress chips and small cypress-wood message holders to be used in guest rooms. The quantity needed of these two items will be large since the chain hotel has close to a total of 15,000 guest rooms.
Today, I introduced initiatives in two local areas. Over the last 4 years, I have used a diagram to explain what I have learned about regional development. The vertical axis represents the agricultural, forestry and fishing village resource capacity and the horizontal axis represents the social capital capacity. First, a community should pursue self-sufficiency in energy and food. Once it has achieved that, then the next step is to enhance its economy in the form of an agro-commerce-industry collaboration or "sextiary (6-step) industry," a scheme advocated by the government, in which people in primary industries, for example farmers, are encouraged to also process their crops into products and market them instead of simply farming, etc. The social and environmental aspects in a community are also very important. With all of these aspects combined, a community can enhance its attractiveness and capacities.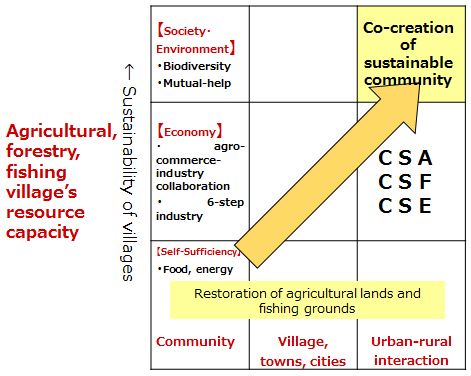 Copyright Junko Owada All rights reserved
Social capital capacity means the ability to effectively interact with others and create trusting relationships. This kind of asset will lead to the realization of forest, energy and agriculture development which is supported by community (Community Supported Forest, Community Supported Energy, Community Supported Agriculture). These concepts can be also applied to the field of health care (welfare or Community Supported Care). I would like to apply these concepts to create more sustainable communities together with local people. This is the conclusion that I have reached so far after having facilitated sustainable community development in different areas for the last 3 years since the great earthquake in 2011.
Written by Junko Owada, Sustainable Community Producer
Edited by Junko Edahiro