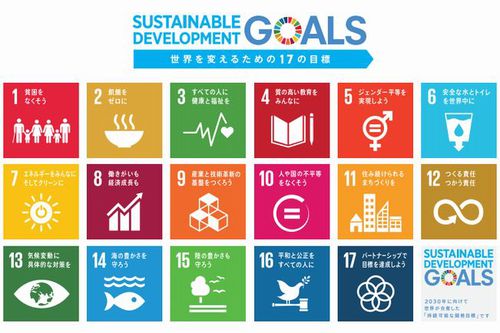 The United Nations (UN) Information Centre of Japan announced on March 2, 2016, that it has created a Japanese-language version of catch phrases shown in icons for 17 of the sustainable development goals (SDGs), in an effort to widely publicize them in Japan and inspire civil society, private companies, and individuals to take action towards achieving them.
The catch phrases use plain Japanese to help people imagine the contents of the items more easily. They were created as a result of multiple discussions among a wide range of entities, including UN organizations, Japan's civil society groups involved in the SDGs, the Japanese government, and the Japan International Cooperation Agency (JICA), with voluntary creative support from advertising and public relations firm Hakuhodo Inc., one of the companies that have signed the UN Global Compact initiative.
The UN Information Centre hopes that many people will use the Japanese-version icons for the SDGs as "catch phrases that can be used by everyone and for everyone," completed through "communication," a corporate social contribution from a firm specializing in that field.
Meanwhile, on March 4, the Institute for Global Environmental Strategies (IGES) released the SDG Compass guide translated into Japanese, created in collaboration with the Global Compact Network Japan (GCNJ). On the same day, the two entities jointly held a seminar to commemorate the release, and approximately 200 people attended from companies, civil groups, universities, and research institutes, etc. Participants listened to the explanation of the SDG Compass and examples of its use to achieve the SDGs through businesses, and also had a discussion on how to achieve the goals.