JFS Newsletter No.180 (August 2017)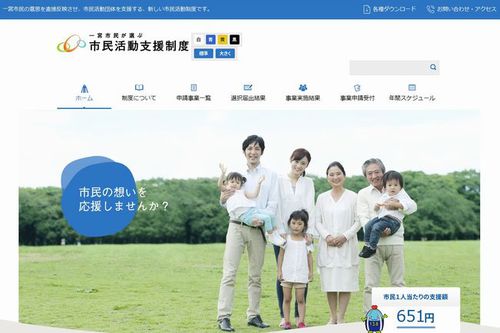 Ichinomiya City "Support Program for Community Activities Chosen by Citizens
(1% Support Program)" website
In many communities, activities are carried out by citizens for citizens, such as community cleaning, safety patrols, health promotion and hobby-related activities. Some of our readers may take part in such activities in their own communities.
Many local governments provide grants for community activities, and in many cases it is the local governments that decide how much funding will be given and to which organizations. Ichinomiya City of Aichi Prefecture in central Japan has implemented a unique scheme since fiscal 2008; its residents can vote to choose which organizations get support. This scheme, the "Support Program for Community Activities Chosen by Citizens," is called the "1% Support Program" for short.
How does this scheme work? Why is it called 1% Support Program? In this issue of JFS Newsletter, we introduce this initiative.
Ichinomiya City's 1% Support Program -- Support Program for Community Activities Chosen by Citizens
Ichinomiya is located near Nagoya, the capital city of Aichi Prefecture, and has a population of about 390,000. In the 1% Support Program, residents aged 18 or older can vote for up to three community activity organizations, and eligible organizations can receive funding in proportion to the number of votes they received. This voting is separate from the municipal election cycle.
The municipal government of Ichinomiya calculates the funding per resident by dividing one percent of the city's total revenue from individual city residents' tax by the number of residents aged 18 or older (in fiscal 2016, for example, it was 640 yen or about US$5.77). That's why the scheme is called 1% Support Program. The concept is that residents themselves can decide how to spend one percent of the resident taxes they have paid.
The following is how citizens' organizations are chosen to receive funding and the funding amount are determined. First, community activity organizations wishing to get funds submit to the city authority their project plans and the amount they would like to receive. After confirmation that requirements are met, information about project plans is published on the city's official newsletter and website. Based on the information, city residents aged 18 or older can vote their choice to support up to three organizations, via postal mail or online. Residents who want to support community activities as a whole instead of a particular organization can opt for the Community Activity Support Fund. Depending on the voting outcome, funding is provided to organizations after they complete their projects.
Two main factors determine the funding given to each organization: the amount calculated by dividing one percent of the total of individual city resident tax revenue by the number of residents aged 18 or older (the amount of funding per resident), and the number of votes received. But there is one more factor: the number of organizations each resident votes for. Each resident has a right to choose up to three organizations and when a resident votes for only one organization, the full amount of funding per resident (in 2016, the 640 yen mentioned above) is the upper limit of the amount funding from that resident provided to the organization. When a resident votes for two groups, however, the maximum amount of funding per resident for each group is a half amount of the funding per resident. In the same manner, when three organizations are chosen, one third is the upper limit that will be distributed to each of those three groups.
Let's imagine a scenario in which funding per resident in a year is 600 yen (about US$5.4), a group requests 150,000 yen (about US$1,350), and 200 residents vote for this group only, 100 choose two including this group, and 300 choose three including this group.
In this scenario, according to the following calculations, the maximum amount of funding distributed to this organization is 210,000 yen (about US$1,892).
a. 200 people multiplied by 600 yen (full funding per resident) is 120,000 yen. (about US$1,081)
b. 100 people multiplied by 300 yen (a half of funding per resident) is 30,000 yen (about US$270)
c. 300 people multiplied by 200 yen (a third of funding per resident) is 60,000 yen (about US$541)
Out of the 210,000 yen calculated according to the voting, this organization will receive 150,000 yen as it requested, and the remaining 60,000 yen will be pooled in the Community Activity Support Fund. If the amount calculated according to the voting is below the requested amount, the group will receive the calculated amount.
Use of the Program
How many residents actually participate in the voting in Ichinomiya? In fiscal 2016, 36,908 out of 320,066 people (the total population aged 18 and higher in the city), or 11.5 percent, registered to vote on funding (of those, 34,582 were valid). Since the amount of funding per resident for projects of fiscal 2016 was 631 yen (about US$5.70), a total of almost 22 million yen (about US$198,198) was paid to 64 organizations that requested funds and to the Community Activity Support Fund.
As mentioned, 11.5 percent of the residents participated in the voting that year. If more residents join the voting, the amount of funds for community activity organizations will also increase.
The funded amount each organization received in fiscal 2016 was approximately 250,000 yen (about US$2,252) on average, but there are differences depending on organizations, from tens of thousands of yen to over 1.5 million yen (about US$13,514).
In fiscal 2016, an organization that provides sports lessons in the region received the most funds, approximately 1.9 million yen (US$17,117). This organization's project garnered 3,133 votes in total.
The organization holds lessons on sports, such as soccer and kendo (a Japanese martial art), in schools, gyms, and other facilities in Ichinomiya. In fiscal 2016, a total of some 1,000 citizens benefited from this project. The funds were used for honorariums for instructors, fees for the use of facilities, and expenses for producing flyers, etc.
Also in the same year, about 1.1 million yen (about US$9,910), the second largest amount, were given to an organization that helps homeless people and others in need to live independently. A total of 2,384 residents voted for this organization. Its project is designed to provide job assistance and counseling for daily problems, operate shelters, and conduct food bank activities, and expenses for these activities are partly covered by the fund.
In fiscal 2016, 64 organizations received funds, including organizations that offer music instrument workshops for elementary and junior high school students, and activities such as firefly breeding, festival operations, disaster prevention, and neighborhood patrols.
Citizens Decide How to Use Their Tax
Ichikawa City in Chiba Prefecture had a similar "1% Support Program" from fiscal 2005 to 2015, and Yachiyo City in that prefecture has been running one since fiscal 2009 (there are some differences in how their programs are run). Other local governments have introduced similar programs (but without "1%" in the name) in which residents select community activities to support through voting.
This kind of 1% support scheme by local governments in Japan originates in the Percentage Law enacted in Hungary in 1996, which enables taxpayers to donate one or two percent of their income tax to non-governmental organizations and others. This Hungarian law was adapted to the programs of the local governments in Japan.
Another example of schemes in which citizens can decide how to use taxes is known as "participatory budgeting." More than 3,000 cities around the world, including New York, Boston, and Paris, have adopted this idea.
There are various types of participatory budgeting. In Paris, five percent of the budget for construction and repair of public buildings and other facilities in Paris is appropriated for participatory budgeting. (In 2015, this came to a total of approximately 10 billion yen, or about US$90 million.) Paris residents can propose projects that will be carried out using this budget and the projects to be adopted are also determined by voting.
Participatory budgeting and 1% support programs make it possible to more directly reflect citizens' wishes for how to use their own municipalities' budgets. Participatory budgeting in Paris allows residents to propose projects to be carried out by the city's budget and determine which projects are adopted, while 1% support programs are regarded as being more familiar to residents since they allow residents to determine which community activities will receive support and how much money they will get.
Does the region where you live have any unique scheme that allows citizens to directly determine how to use the municipality's budget? If you have any information on such schemes, please let us know at JFS. We are interested!
Reference website:
Ichinomiya City "Support Program for Community Activities Chosen by Citizens (1% Support Program)"
http://www.city.ichinomiya.aichi.jp/kurashi/chiiki/1010093/1012340.html (in Japanese)

Written by Naoko Niitsu