JFS Newsletter No.185 (January 2018)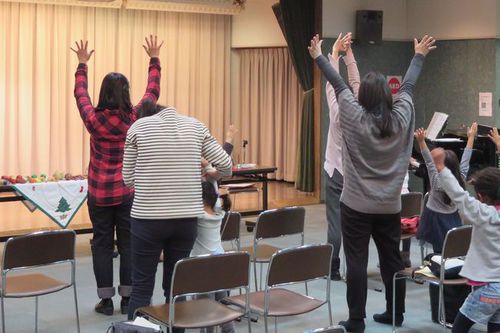 Japan's economy grew rapidly after World War II and its industrial productivity improved dramatically. While bringing Japan affluence, it caused serious problems in society. Environmental pollution increased due to smoke and wastewater emitted from factories, leading to health damage from pollution.
The Japanese Government improved pollution prevention laws to establish relief and compensation systems for people suffering from health damage. After environmental pollution was reduced through strengthened measures, a new system was introduced to prevent health damage from pollution, in addition to providing conventional compensation to individual sufferers. This month's newsletter reports on Japan's programs to prevent health damage from pollution (hereinafter called "the Prevention Programs"). These Prevention Programs introduce a new system that focuses on local citizens, helping them maintain their health by promoting measures to prevent health damage from air pollution.
How the System to Prevent Health Damage from Pollution Evolved
The Environmental Restoration and Conservation Agency of Japan (ERCA) promotes the Prevention Programs under the jurisdiction of the Ministry of the Environment. ERCA is an independent administrative agency that efficiently and effectively conducts needed, highly public projects for citizens on behalf of the national government.
First, we want to discuss how the system has evolved, from its beginnings in providing relief to victims of health damage, through its involvement in compensation and prevention.
Since December 1969, when the Act on Special Measures concerning Relief of Health Damage Related to Pollution was enacted, medical costs of officially acknowledged patients have been covered. The Pollution-Related Health Damage Compensation Act came into force in September 1974. It obliges factories and other workplaces with facilities emitting more than a certain amount of sooty smoke to pay a pollution levy.
The compensation system brought enormous improvements to air pollution prevention measures. It resulted in compilation of a report on asthma onset that noted, "The effects of air pollution are not always the major cause of the disease, but the possibility that air pollution at present is affecting our health in some form cannot be denied." These changes in the understanding of air pollution resulted in partial revision of the Pollution-Related Health Damage Compensation Law. It came to advocate not only continued compensation to sufferers of health damage but also promotion of comprehensive health protection measures. Finally, the Prevention Programs were launched in March 1988 with two main thrusts: health protection programs and air-quality improvement programs.
Framework of the Prevention Programs
How are the Prevention Programs run?
Among the health protection programs, those for the prevention of asthma onset and restoration of health are run as projects on health damage arising from the effects of air pollution. Within the air-quality improvement programs, steps are taken to deal with the traffic environment and tree-planting to purify air, to complement administrative measures. These programs can be divided into two groups: direct programs controlled by ERCA and subsidized projects implemented by municipalities provided subsidies by ERCA.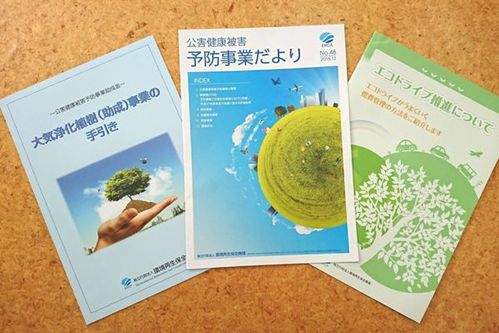 Direct Projects
1) Scientific Research
The health protection programs focus on health guidance for patients, helping them manage their daily lives, since medical treatment of asthma is currently improving; while the air-quality improvement programs focus on major research into measures for dealing with automobile-related issues and fighting PM2.5 pollution as needed for the changing atmospheric environment.
2) Dissemination of Knowledge and Information
Through the health protection programs, ERCA undertakes various programs such as providing via brochures and periodicals basic information on asthma and on self-management steps asthmatic patients can take in their daily lives, having specialists hold lectures and workshops. It also organizes swimming meets for children trying to recover from asthma. Through its air-quality improvement programs, the agency prepares and disseminates educational brochures on the atmospheric environment and holds seminars on measures to improve air quality.
3) Training and Seminars
The agency conducts training sessions and seminars to provide knowledge and skills to people engaged in the Prevention Programs in local governments. The health protection programs provide health guidance seminars and trains staff to educate asthma patients, while the air-quality improvement programs hold seminars on measures to improve air quality. These training sessions and seminars also provide participating local governments a chance to exchange information and views with each other.
Subsidized Programs
ERCA offers subsidies to local governments for their prevention programs. Its health protection programs aim to promote health counseling, physical checkups, functional training and provision of needed medical equipment. Its air-quality improvement programs include plan-making for air-quality improvement and tree-planting for air pollution reduction.
Examples of Programs
We attended two events that were held under the Prevention Programs.
Air Quality Improvement Seminar (by ERCA, air-quality improvement programs)
A seminar on improving air quality was held on December 14 and 15, 2017, with about 60 participants consisting of local government staff engaged in air quality improvement and tree-planting programs. The Ministry of the Environment, together with specialists and local governments, presented the latest information and examples on measures to control vehicular pollution (first day), and measures to improve air quality (second day). We attended the seminar on the first day, when three lecturers spoke.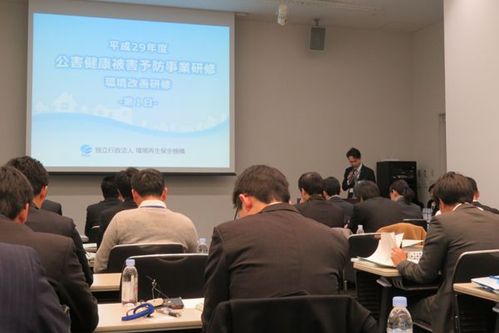 A Ministry of the Environment representative provided up-to-date information on measures to reduce vehicular air pollution. To promote the use of eco-friendly cars, the ministry will introduce regulations on existing cars in large cities. Under these regulations, automobile inspection certificates cannot be renewed if the vehicle fails to meet emission control standards. Exhaust gases from special-purpose vehicles, such as construction vehicles that do not run on public roads, are also regulated by the Act on Regulation, Etc. of Emissions from Non-road Special Motor Vehicles. In addition, a variety of other measures are being taken, such as promoting next-generation cars, building cities where automobile transportation is unnecessary, eco-driving and car sharing.
After that, a professor from Waseda University specializing in next-generation vehicles spoke on future technologies for controlling traffic pollution. He discussed three different perspectives: technical improvement of existing vehicles, development of new power systems and fuels, and smart use of vehicles. According to him, hybrid car technology can achieve a much better fuel efficiency than conventional engines, but reductions in cost and weight will be essential for promoting widespread use. Concerning the development of electric cars and fuel cell vehicles, the growth in demand for electricity these will entail needs to be dealt with and the fuel supply infrastructure needs improvement. Thus, it is necessary to review and revise the existing transportation system and our use of vehicles, in addition to overcoming technical difficulties.
Finally, a municipal official from Kawasaki gave a presentation on measures to control traffic pollution. The city is undertaking various measures to improve the traffic environment. For example, they have a subsidy program to encourage the purchase of low-emission vehicles, and an eco-transportation program in which businesses request their carriers and suppliers to use environmentally friendly transportation. Furthermore, the city has a traffic control scheme that discounts the tolls on a section of the coastal expressway located away from residential areas and on less-congested expressways to encourage drivers to take those routes.
After each lecture, the participants actively took part in a question-and-answer session, showing a high level of environmental awareness. They looked especially interested in cutting-edge technologies and the initiatives of other local governments.
Parent-Child Music Therapy Workshops (subsidized program among the health protection programs)
Tokyo's Kita Ward held a parent-child music therapy workshop on December 18, 2017 for children three to nine and their parents. Nearly 10 child-parent pairs attended the workshop for training in abdominal respiration, which is effective at easing asthma attacks. They could learn the technique while having fun singing.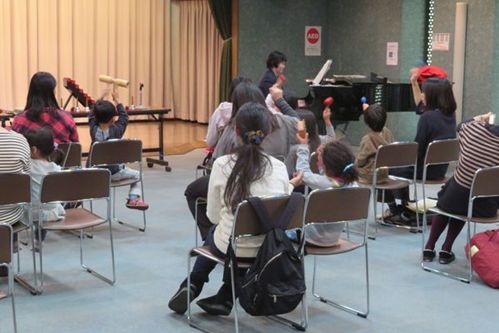 Asthma patients have repetitive attacks, or difficulty breathing, due to narrowing of their airways. When they have an attack, patients struggle to inhale more and often panic, leading to shallower breathing. Abdominal respiration training enables patients to breathe deeply in a conscious way.
Prior to the workshop, a music therapist certified by the Japanese Music Therapy Association played a piano to forge a cozy atmosphere in the room. The therapist kept an eye on the children as she made her presentation so that they never got bored during the program, which lasted nearly 90 minutes.
Slow, long exhalation is important for abdominal respiration. When the children prolonged the last tone while singing a song or playing a pitch pipe, they could exhale from their abdomen.
Abdominal respiration requires thoracic muscle strength, which can be improved by stretching exercises. Music is useful for that purpose. To encourage a musical mood, many percussion instruments had been brought in and arranged on a table and the children were allowed to choose their favorite one. They took delight in holding them overhead to accompany the tune of Jingle-Bells.
When the children first entered the room and saw the instruments, they were filled with curiosity. During the break, they gathered around the table, happily picking them up and playing them. It was an impressive scene.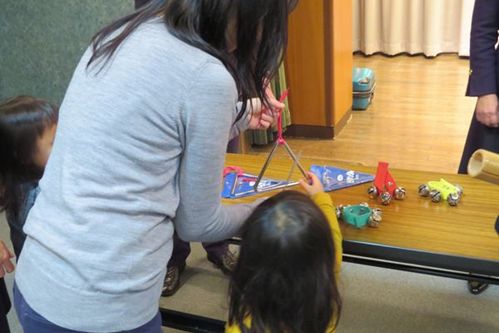 Ninety minutes passed rapidly with a lot of smiles. We thought such training could be introduced into daily life for fun, with effortless continuation.
Future Prospects
ERCA collects information on regional air pollution and the needs of patients and residents. It uses this information to improve its activities. It also evaluates and analyzes the effects of its activities based on objective data, and compiles and distributes information giving examples of effective municipal services. This contributes to more effective services.
As asthma treatment advances, patient categories have changed and the need to support self-management has increased. Mitigation of air pollution has brought about differences too, making it more important to promote information diffusion locally and develop human resources. We expect effective activities to continue based on accurate understanding of the changes.

Written by Yuuka Anzai and Nobuhiro Tanabe