Japan's Cabinet Office and Cabinet Secretariat held its FutureCity Initiative International Forum in Johor Bahru, Malaysia, on February 8, 2015. The forum aims at increasing understanding and expanding support of the initiative, sharing leading case studies from Japan and the world, and building and strengthening an international network. The forum has been held four times in Japan, with the last one being in Higashimatsushima in December 2014. Now in its fourth year, the forum has always been held in Japan until this fifth forum in Malaysia.
To integrate the idea of Future Cities into the Iskandar Malaysia Project, an ongoing national development plan in the state of Johor, the forum was held to share successful model cases of building partnerships between different cities and launching businesses. In the forum, efforts to create sustainable cities in Malaysia were introduced, followed by presentations of case studies in six cities in Japan, both by municipalities and businesses. In the latter half of the forum, a lively discussion ensued between representatives from Malaysia and Japan who are working to create sustainable cities. Business matching between both countries played a big role in the forum, too. The forum gathered about 300 participants from over 10 countries including Malaysia and Japan.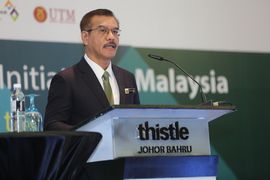 At the end of the forum, Shuzo Murakami, the Chair of the FutureCity Promotion Council, remarked, "It is beneficial for many cities to strive to become Future Cities, and essential for those cities to proceed while emphasizing their own distinctive characteristics. While working to become Future Cities, internationally sharing individual findings and insights gained from experience will deepen and strengthen further development of this initiative."