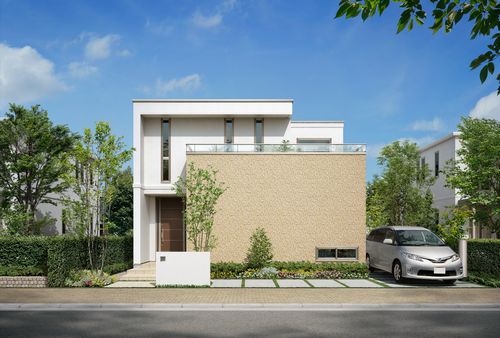 Copyright Toyota Housing Corporation

Toyota Housing Corporation (Toyota Home), a home builder in the Toyota Group that engages in car manufacturing, environmental business and information technology, announced on November 2, 2011, the release of "since asuie", an exclusive smart house that aims to realize the future home. The smart house incorporates Toyota's proprietary smart house technology, which allows the user to spend more time with their family, a popular trend since the 2011 earthquake. Toyota's smart house technology includes the nation's first attempt at energy collaboration between the home and vehicles.
The core feature of the smart house is a home energy management system (HEMS) that visualizes and controls the energy use. A liquid-crystal monitor displays the energy information of the whole house, including the state of power generation by the photovoltaic system, the power storage level of the batteries, and the electricity usage of each room.
In addition, the smart house allows homeowners to store low-priced electricity at night to use it effectively on the following day, reducing the purchasing of electricity during daytime when electricity demand is higher. The house has a charger for electric vehicles (EV) or plug-in hybrid vehicles (PHV), as well as an emergency power supply system as standard features. The power supply system uses batteries and the Toyota Estima Hybrid alternating current (AC) 100 V outlet as an exterior power supply.

Toyota Home, Toyota Smile Life Launch 'Smart House' (Related JFS article)
http://www.japanfs.org/en/pages/031259.html
Misawa Homes Unveils Home with PV Wall Panels for Year-Round Power Generation (Related JFS article)
http://www.japanfs.org/en/pages/031418.html
EV Car Sharing and Rental Car Home-Delivery Services Offered at Newly Built Condominium (Related JFS article)
http://www.japanfs.org/en/pages/031422.html
Posted: 2012/02/06 06:00:15 AM