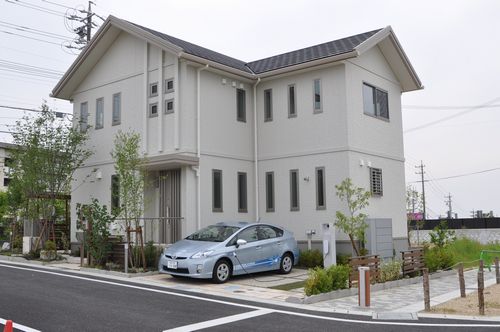 Copyright Toyota Housing Corporation

Home builder Toyota Housing Corporation (Toyota Home) and real estate company Toyota Smile Life Inc. on June 3, 2011, started selling Smart House, a test smart energy house that is the centerpiece of a low-carbon community system pilot project in Toyota City, Aichi Prefecture. The neighborhood was selected for the Demonstration of Next-Generation Energy and Social Systems program by the Ministry of Economy, Trade and Industry.
A "smart house" is a house that connects all electrical home appliances, vehicles, solar panels and other electrical components on the same network in order to coordinate their behavior and use energy within the home more efficiently. Smart House, Toyota Home's new product, is equipped with numerous devices for saving, creating, and storing energy, including a plug-in hybrid vehicle (PHV) or electric vehicle (EV). Also included in Smart House are a Home Energy Management System (HEMS), a photovoltaic system, and a storage battery.
HEMS is a centralized system for controlling devices and facilities in a home. An HEMS allows spare electricity produced by a photovoltaic system to be stored in batteries for use at a time when more electricity is consumed. This allows homeowners to use their electricity more effectively. Toyota Home is also studying the possibility of using storage batteries mounted on a PHV, for instance, as an emergency power supply for electrical devices. Devices used for testing and validation are rented free of charge during the experiment period, with some planned to be used even after the pilot project is over.
In order to build and validate a low-carbon community system, the project will collect data obtained from Smart Houses with the following objectives: (1) optimizing energy use within the home, (2) building a low-carbon traffic system, (3) optimizing energy use outside the home, and (4) optimizing behavior across the entire domain of everyday living.

Toyota Launches Development of Home Energy Management System with Power Storage Function (Related JFS article)
http://www.japanfs.org/en/pages/029108.html
Posted: 2011/09/23 06:00:15 AM