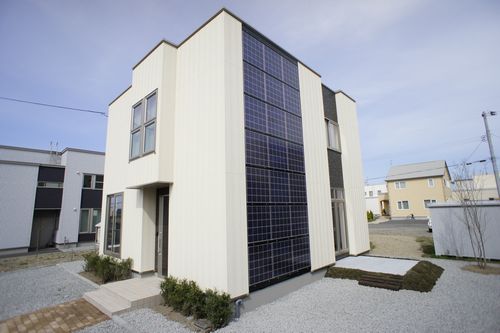 Copyright Misawa Home Hokkaido Co.

Misawa Homes Co., a major Japanese housing manufacturer, opened an eco-friendly model house in Asahikawa City, Hokkaido in May 2011, with photovoltaic (PV) panels installed on the exterior walls, aiming to consistently generate electricity throughout the year.
In this region, where temperatures fluctuate over 50 degrees Celsius over the course of the year and high levels of snow accumulate in the winter, most households require heating more than half the year. Because heavy accumulations of snow make it almost impossible for rooftop PV panels to generate any electricity, Misawa Homes designed a house with PV panels on the side in November 2010, and completed the prototype in May 2011.
As there has been a growing interest in renewable energy, this model house is attracting much attention from people who realized that enabling power generation at home will be also helpful in saving energy.

Next Generation Zero-Energy Model House Debuts in Asahikawa, Hokkaido (Related JFS article)
http://www.japanfs.org/en/pages/027090.html
Solar Power on Vertical Walls Possible with New BIPV (Related JFS article)
http://www.japanfs.org/en/pages/031089.html
Posted: 2011/11/19 06:00:15 AM