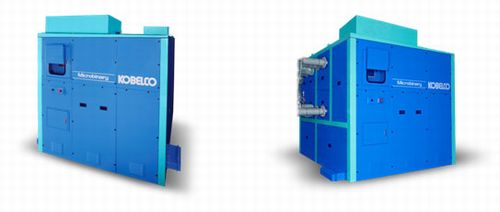 Copyright Kobe Steel Ltd.

Kobe Steel Ltd. announced on September 8, 2011, that it will start selling the small, highly efficient "Microbinary" system in October 2011. The system generates electricity by utilizing geothermal or factory waste heat. The maximum output of the new system is 70 kilowatts, and the unit will sell for 25 million yen (about US$324,700).
The binary power generation system drives a turbine to produce electricity using steam generated by heating and vaporizing a working medium with a low boiling point. In Japan, scaled-down binary generation systems are expected to become widespread thanks to the introduction of a feed-in-tariff system for renewable energy, and deregulation via the Electricity Utilities Industry Law for small-scale binary generation devices.
By generating electricity with warm water at temperatures from 70 to 95 degrees Celsius, or with factory effluent or gases, the "Microbinary" is able to use various heat sources, including hot spring water, geothermal sources, biomass and solar heat. The "Microbinary" is the world's first semi-hermetic screw turbine generation system. It is capable of stable operation for long periods due to its leak-tight structure for the working media and lubricating oil.
The company was also able to reduce the cost of the system by taking advantage of mass production of refrigeration equipment and hot water heat pumps, and shared use of common parts. With the development of a 120-kilowatt class binary generation system using vapor below 130 degrees Celsius, the company aims for annual sales totaling 3 billion yen (about US$39 million) by 2015.
Kobe Steel Ltd. and Electric Power Companies Develop High-efficiency Hot Water Heat Pump (Related JFS article)
http://www.japanfs.org/en/pages/030132.html
Posted: 2011/12/09 06:00:15 AM