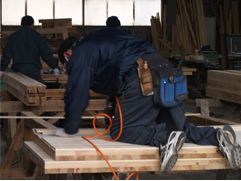 Copyright more trees
The non-profit organization More Trees announced on April 18, 2011, the launch of its "LIFE311" project to lend support to those in the earthquake and tsunami-ravaged Tohoku region by working with local residents to build temporary houses using wood harvested from around the disaster-stricken areas.
The project was launched in the city of Sumita-cho, which neighbors several disaster-stricken cities, including Rikuzentakata, Ofunato, and Kamaishi in Iwate Prefecture, as these municipalities were then in a chaotic state and difficult to carry out new projects on their own. Aiming to become the top in Japan's forest industry, the Sumita company said it would build at least 110 temporary houses on land owned by the town.
This temporary housing project uses materials mostly grown locally, ensuring that relief money is used and circulated domestically. It also creates jobs at each operation stage such as forest thinning, lumber production, and processing, which is expected to stimulate the economy in the whole Tohoku area.
The project is accepting donations starting from one yen to raise operating funds. The details related to donations are disclosed on the LIFE311 website to ensure transparency.
City Supports Rural Forest Management (Related JFS article)
http://www.japanfs.org/en/pages/030259.html
More Trees Signs Wood Fuel Partnership Agreement with Niigata City (Related JFS article)
http://www.japanfs.org/en/pages/030687.html
Posted: 2011/09/19 06:00:15 AM