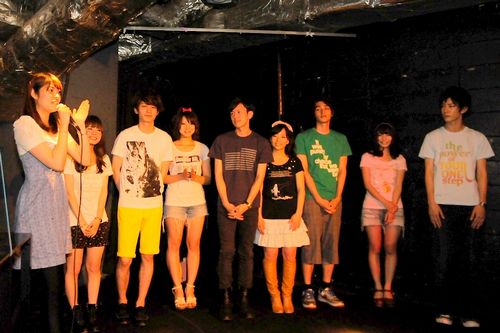 Photo by Japan for Sustainability

UNIQLO Co., a leading Japanese clothing retailer, held a fashion show on June 24, 2010, to commemorate the launching of a new collection of T-shirts in collaboration with the Office of the United Nations High Commissioner for Refugees (UNHCR), as a part of a charity event organized by students.
Students working for UT STORE HARAJUKU, UNIQLO's T-shirt specialty shop, planned the fashion show. The show's staff consisted of models, hair and makeup artists, photographers, and volunteers who have connections with the Harajuku district. They presented T-shirts designed by celebrities from various fields and students to convey their messages of peace.
This UT × UNHCR Charity T-Shirt Project started in 2009 to increase people's awareness of refugees. All the proceeds from T-shirts sales are donated to UNHCR to help refugees. In addition, an education booth was set up to foster a better understanding of the refugee problem among visitors, and panel displays were put on exhibit to explain UNIQLO's social contribution activities.
At the event site, a UNIQLO recycling event was also held to collect used clothes. Those clothes that could be reused were sent to refugee camps across the world through UNHCR.
UNIQLO to Recycle and Donate Clothing Year-Round (Related JFS article)
http://www.japanfs.org/en/pages/030018.html
Uniqlo Co. U.S. website
http://www.uniqlo.com/us/
Posted: 2010/12/09 06:00:15 AM