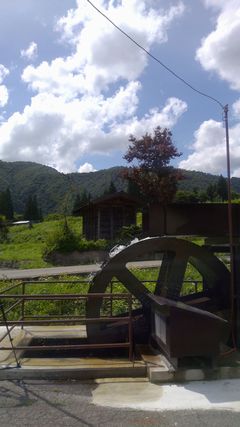 Photo by Regional Renaissance Agency
All Rights Reserved.
In Itoshiro, a shrinking rural community in Gifu Prefecture in central Japan, three micro hydropower systems are providing local, sustainable power. The systems were introduced by the Regional Renaissance Agency (RRA) , a non-profit organization that supports grassroots community building activities, in collaboration with another non-profit, Yasuragi-no-Sato Itoshiro.
Once home to over 1,200 people, Itoshiro has seen its population decline to 270 (about 100 households), a quarter what it was 50 years ago. In the current project, RRA placed emphasis on local self-reliance efforts, encouraging residents to do as much as they can by themselves. For instance, all electrical and construction work were conducted by local residents, and the installed systems are generating electricity using irrigation water, an abundant local resource.
RRA is now working to establish an organization for the construction of a larger micro hydropower plant producing a total of 140 kilowatts, more than enough to meet the entire energy needs of the community. By receiving investment capital from residents, RRA aims to realize a plant that will return profits to the community in the future.