JFS Newsletter No.186 (February 2018)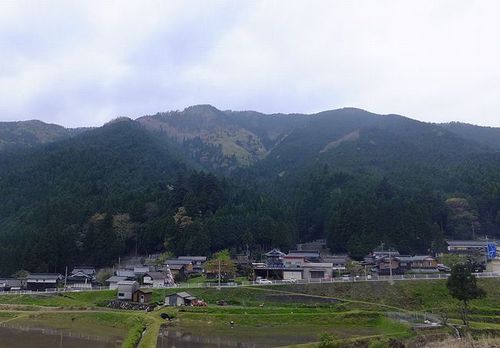 Nishiawakura Village
Photo by Mti Some Rights Reserved.
Nishiawakura is a "village" ("mura," Japanese rural district) with a population of 1,480 people as of January 2018. It is located at the northeastern end of Okayama Prefecture where it borders Hyogo and Tottori prefectures. The village is among mountains about a two-hour drive from Okayama City, the capital of Okayama Prefecture. The village covers 57.97 square kilometers, of which about 95 percent is mountainous forests. In turn, 84 percent of those are artificial forests dominated by Japanese cedar and cypress.
In Japan, a large-scale trend occurred from 1999 through 2010 of neighboring municipalities merging with each other. Even under less than flourishing circumstances, about 60 percent of Nishiawakura's residents opposed merging, and the village decided to remain autonomous. The village's financial constitution, however, was the weakest in the prefecture, and a national census showed its population to have decreased by about 10 percent between 2008 and 2013. It was thus thought that the population would continue to decrease if nothing was done. In this disadvantageous situation, Nishiawakura has continued making efforts to develop the village on its own, and has thereby become a model for the success of regional revitalization on the basis of forestry. In this issue, we introduce initiatives of Nishiawakura -- which has attracted attention from all over Japan -- in the past and present, as well as its prospects for the future.
Most artificial forests in Nishiawakura, as with in other regions throughout Japan, were planted during the country's postwar years of rapid economic growth. With subsequently broader distribution of inexpensive imported wood, Japan's forestry dwindled, leading to insufficient attention to practices such as forest thinning. Lack of thinning and other forest management efforts leads to degradation of artificial forests.
Facing these circumstances, the village established the "Initiative with a 100-year Vision of Forests" in 2008. This initiative aims for the village, cherishing the thought of ancestors who planted the trees 50 years ago for the sake of future generations, to make concerted efforts for another 50 years to raise the forests into splendid 100-year old forests.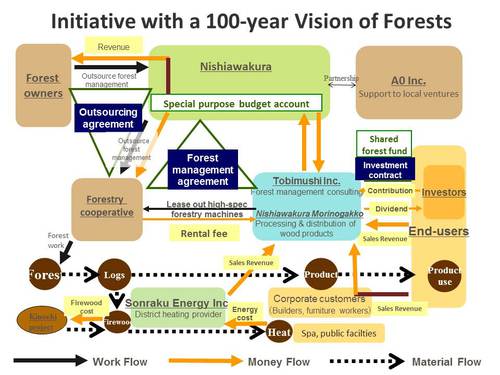 Copyright 2018 Nishiawakura Village All Rights Reserved.
As the above figure shows, this initiative is being implemented not only with support from the village office using its special-purpose budget accounts, but also as a comprehensive approach by the forestry cooperative, private businesses, and others. To raise trees planted 50 years ago into splendid 100-year old forests, it will be necessary to continue forest thinning and other management practices using an economically sustainable mechanism. In this context, the village is promoting two projects, the "100-year Old Forest Creation Project," aiming to develop forests, and the "Morinogakko Project," aiming to develop wood products for end users.
The 100-year Old Forest Creation Project is being promoted mainly by the local government, with the village office keeping forests on behalf of their owners, thinning them out and maintaining roads for forest operations. On this project, the village has signed a long-term forest management agreement for 10 years with the forest owners, under which it bears all the costs for these operations. Regarding proceeds from the sale of wood thinned from the forests, half of the proceeds remaining after deducting sales costs are provided to the forest owner, while the other half are allocated to the Initiative with a 100-year Vision of Forests.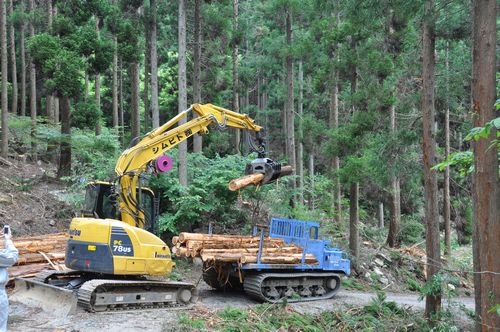 Copyright 2018 Nishiawakura Village All Rights Reserved.
Nishiawakura's forest is made up of roughly 3,000 hectares of privately owned forest areas, 1,000 hectares of company-owned forest areas, and 1,300 hectares of government-owned forest areas. The village spent 10 years concluding the agreement with about 800 private forest owners (approximately 1,600 hectares in total, slightly more than half of the privately owned forest area). The village continues to reach out to other forest owners to obtain their agreement for entrusting their forest management to the village.
Currently, the 1,600-hectare privately owned forest area managed by the village and the 1,300-hectare village-owned forest area have obtained Forest Stewardship Council (FSC) certification, an international certification for sustainable forest management. The village intends eventually to obtain this certification for all the forests in the village, so as to increase the added value of local wood.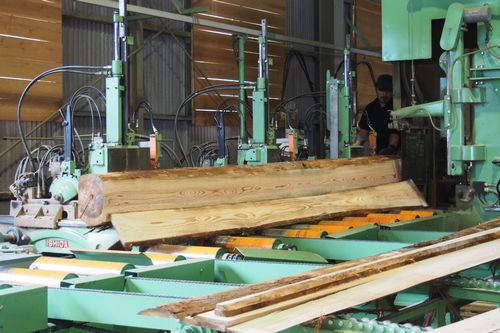 Copyright 2018 Nishiawakura Village All Rights Reserved.
The village is not only selling wood derived from thinning of forests under proper management as logs, but also promoting the development of wood products for end-users to increase the added value of the local wood. In this regard, the village established the Shared Forest Fund in 2009 to support the Initiative with a 100-year Vision of Forests. The fund has been designed to accept contributions of 50,000 yen (US$442) from people living in urban areas to support the initiative. The money is used in promoting the commercialization of wood products for revitalizing the forests, and also to hold tours for contributors with the aim of providing them opportunities to deepen their interactions with the village.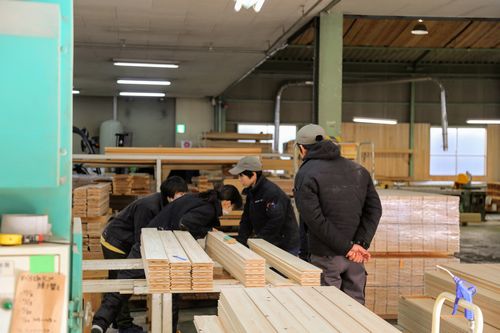 Copyright 2018 Nishiawakura Village All Rights Reserved.
In October 2009, a company named Nishiawakura Morinogakko (literally, "Nishiawakura Forest School") was established. It has been promoting development and sale of products that harness local resources. To make use of wood that comes from thinning of artificial forests, this company has built a new wood processing factory. The company now fulfills functions ranging from procuring raw wood and sawing, drying and processing it, to selling wood products. In addition to wood processing, the company focuses on marketing and also on nurturing new entrepreneurs. It is vigorously promoting the processing, distribution and sale of domestic wood by, for example, developing and selling DIY kits for individuals, and supplying interior materials for residential houses and materials for large buildings. The company also plans and operates forest-related tours and events.
The company's website declares: "We aim to optimize the value of wood based on a model of sawing logs in small quantities to produce a variety of goods to support small-regional forestry. Our mission is to maximize the value of local wood for the development of local forestry while becoming more closely involved in our customers' lives."
One of its popular items is Yukahari Tiles, 50 centimeter square tiles made of solid wood. Arranging the tiles on the floor provides solid wood flooring. People living in rental apartment houses can also enjoy this type of flooring. It is easy even for women to install it, and when moving out, people can take the tiles to their new quarters. Also, when dirt or damage to the tiles becomes a nuisance, they can be replaced with new ones. In this way, the company has expanded its operations, achieving a surplus through its own business alone in 2013, relying on no subsidies at all.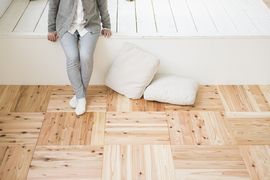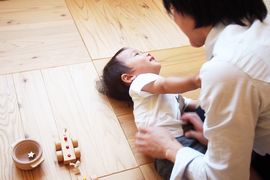 Copyright 2018 Nishiawakura Village All Rights Reserved.
Morinogakko is not the only company running a business that focuses on forests, the source of capital of in this region; various other companies also run businesses focusing on forests here. For example, furniture manufactured by Youbi Co., which makes furniture using local wood, is highly regarded domestically and internationally. Another example is Mokkun Co., which manufactures and sells safe wooden products, toys, furniture, etc.
A0 Inc. was established by Daisuke Maki, president of Nishiawakura Morinogakko, in October 2015 for subsequent challenges in Nishiawakura. Morinogakko came up with a scheme to produce value from forests by manufacturing products using thinned wood. Maki said that through this activity, the idea came strongly to him that, "While this entire region has diverse untapped value, is it right for us just to sell wood and wood products? Beyond the bounds of farming, forestry and fisheries, we should bring together value in the form of natural resources among these industries."
A0's business objective is to promote circulation within the local economy among farming, mountain and fishing villages to improve their demographic movement. Its business fields span everything from construction, real estate, and fostering of local ventures to media management, inland water culture, animal meat processing, and distribution. Meanwhile, its company name, A0, has its roots, so to speak, in the "A0 layer," the top organic matter layer in forest soils. It is an important layer, serving as nutrition for trees and protecting the soil from rain. Maki said, "We aim to become the soil that produces diverse value for society just like this layer, which is inconspicuous yet helps enrich forests."
Based on this desire, what A0 commercialized first was amazingly "eels from the forest"! Since keeping the water temperature at 25 to 30 degrees Celsius is necessary in eel farming, it is rarely attempted in cold areas like Nishiawakura. Triggered by the idea of woodchips (otherwise discarded) being useful as fuel, the company tried its hand at farming eels. This was the first step for linking forestry and fisheries. The facility for farming eels is the gymnasium of the former Kageishi Elementary School, which had closed down.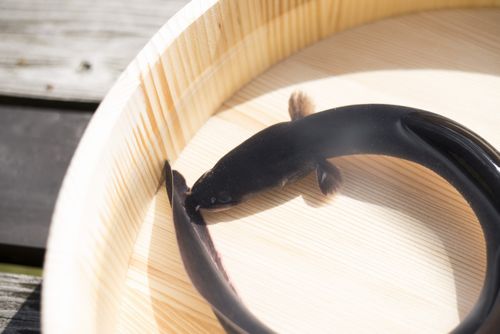 Copyright 2018 Nishiawakura Village All Rights Reserved.
In eel aquafarming, eels are generally raised so that they become ready for shipment in about half a year. A0, however, takes more than a year to raise eels, administering no drugs to them until they grow large. Even doing this, the company can make a profit in one or two years. Maki says, "It is important to preserve forests, which are assets to be managed over a super long term, such as several decades or a century, but businesses that earn profits in the short term are also important."
Woodchips generated in lumbering and processing are not the only fuel used in eel aquafarming. Morinogakko manufactures and sells half-split disposable chopsticks made from domestically grown Japanese cedars, using no colorants, bleach, mildew-proofing agents or other additives. These disposable chopsticks are available at a roadside market selling local products in Nishiawakura and are used at restaurants across Japan. Disposable chopsticks used at village facilities are also collected and used as fuel.
Water in the tanks used in eel farming always needs to be circulated and filtered to be kept clean. A0 is also studying the use of Japanese cedar and cypress bark for filtration. The bark was formerly discarded. It is expected that bark constituents will have the effect of improving the underwater environment and enhancing the health of fish. Furthermore, since eels mainly eat fish powder made by drying and pulverizing fish, including bones, eel dung and the waste water from the tanks is full of nutrients, including nitrogen, phosphorus and calcium. Such nutrients are adsorbed by bark used for filtration, and then good-quality compost can be made from the bark.
There is also a plan to circulate the waste water itself through plastic greenhouses. Since it is warm water, it can heat the space inside the greenhouses. Farm products are cultivated in the greenhouses, while vegetable stems and other inedible parts of the produce are used to make compost which is used in the fields. Maki said, "We do not just cultivate eels. In an environment surrounded by forests, we aim to link forestry with fisheries and produce a circular flow while using the blessings of these forests.
A roadside market located in Nishiawakura named "Awakurando" started including "eels from the forest" on its menu. Disposable chopsticks used to eat the eels become fuel to cultivate them. Those who eat the eels can also feel involved in such a large circular flow.

Copyright 2018 Nishiawakura Village All Rights Reserved.
Takahiro Ueyama, director of industrial tourism in Nishiawakura, said, "The Initiative with a 100-year Vision of Forests has contributed to the expansion of various approaches and the launch of a number of companies. Nine years have passed [since the start of the initiative], and currently, 130 people, accounting for 9 percent of our population, who had moved out are returning to the village. A0 alone employs more than 20 people. The number of children in the village was 126 in 2010 and has increased to 154 now. This year, our population is expected to increase by 21 people."
In an era when many regions cannot function without constant reliance on subsidies or grants, Nishiawakura has continuously attracted attention as a model of successful regional revitalization in Japan. In the next issue, we will introduce the village's efforts to be 100 percent self-sufficient in energy, as well as to work on not only natural capital but also social and economic capital. Please stay tuned!

Written by Junko Edahiro