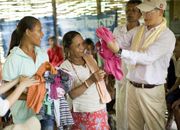 Photo courtesy of Shinke Kamioka
UNIQLO Co., a leading Japanese clothing retail chain, announced on February 23, 2010, that it would carry out an "All-Product Recycling Initiative" to recycle and reuse all of its used clothing throughout the year from March 2010.

This recycling initiative has been conducted three times a year regularly since September 2006. UNIQLO successfully collected 2.62 million items of clothes in 2009, marking the largest volume ever, and it expects to collect more clothes by conducting the project on a year-round basis.

Of the collected clothes, about 10 percent are recycled as energy materials and industrial fibers, and about 90 percent are donated to support refugees and disaster victims.
UNIQLO says that it expects to consistently collect a lot of clothing by conducting the All-Product Recycling Initiative throughout the year, and hopes to deliver customers' support to one for each of the estimated 30 million refugees and IDPs worldwide through the collected clothes.
UNIQLO Collects over One Million Pieces of Used Clothing in March Campaign (Related JFS article)
http://www.japanfs.org/en/pages/029418.html
UNIQLO -- Maximizing the value of our clothes
http://www.fastretailing.com/eng/csr/environment/
recycle.html
Posted: 2010/06/21 06:00:15 AM