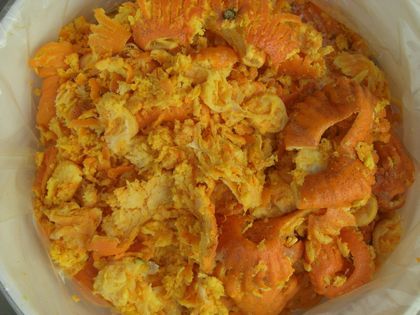 Copyright Ehime Prefecture

Ehime Prefecture, which produces the largest amount of citrus fruits in Japan, is making efforts to produce bioethanol from the residue of tangerine juice production, the first attempt of its kind in Japan, in cooperation with Ehime University and a private company.
The total amount of tangerines produced in Ehime Prefecture is 310,000 tons annually. Around 40,000 tons are turned into tangerine juice, leaving residue of about 20,000 tons, half of the amount. Though most of the residue is dried and reused as food for livestock or as compost, about 20 percent of it is disposed of. If the group succeeds in manufacturing bioethanol from the residue, it plans to use it as fuel for cars, agricultural machinery and factory boilers.
The prefectural government formulated a master plan for the utilization of biomass in 2004, and has been seeking to develop and introduce technology to utilize the region-specific biomass Regarding bioethanol, it established an industry-academia research committee in 2007, and in 2008, the Ehime Prefectural Center for Environmental Creation received subsidies from the Ministry of the Environment for this project. It was adopted by the ministry as one of the projects to develop technology for preventing global warming.
Currently, a plant is under construction on the premises of Ehime Beverage Inc.'s Matsuyama Factory, and is expected to be completed in October 2010. After its completion, tests will be conducted to establish technologies and systems for the realization of local production/local consumption models.
Test Project on Bioethanol Fuel from Rice Straw Starts in Akita (Related JFS article)
http://www.japanfs.org/en/pages/028854.html
Japan's Biomass Market Estimated to Approach 400 Billion Yen in FY2015 (Related JFS article)
http://www.japanfs.org/en/pages/028864.html
Posted: 2010/08/19 06:00:15 AM