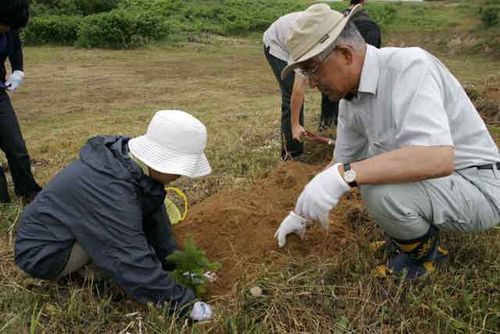 Copyright Scenic Byways Resource Center

A tree planting program to offset carbon dioxide (CO2) emissions from cars has been in operation since January 2009 in Hokkaido, Japan's northernmost island. This offsetting service is provided by the Scenic Byways Resource Center, Japan, a non-profit intermediary corporation engaged in preservation of scenic attraction in Hokkaido. The center sells carbon offsets through car rental companies and plants trees, on behalf of purchasers of offsets, at planting sites in an area called Scenic Byways Travelers Woods. The center has been working to create these woods since fiscal 2008.
Drivers who want to balance out carbon emissions from their own cars or rental cars can sign up for the service at the local offices of Toyota Rent a Car Sapporo Co. or Nippon Rent-A-Car Hokkaido Co. Trees cost 2,000 yen (about U.S.$20) each. The drivers can determine the number of trees to be planted, referring to a table of CO2 emissions by car model. After the purchase, they receive a certificate with the offset amount printed on it.
The trees are planted in the Scenic Byways Travelers Woods by the center during the planting season. Purchasers of the trees can see where their trees were planted on the center's website. If they wish, the center will inform them of the planting site by e-mail.
This program was implemented on a trial basis from January to March 2009 as part of a pilot project promoting carbon offsets by the Ministry of the Environment. Because the program was well received by travelers, as well as local residents, it was extended after the end of the trial period. The center intends to attract more people by offering new plans with various price options.
Carbon-Offset Tour to Expand in Hokkaido (Related JFS article)
http://www.japanfs.org/en/pages/026943.html
Scenic Byway HOKKAIDO official website
http://www.scenicbyway.jp/english/index_e.html
Posted: 2009/05/25 06:00:15 AM