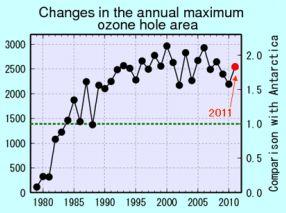 Copyright Japan Meteorological Agency
(the satellite data were provided by NASA)
The Japan Meteorological Agency (JMA) announced on November 1, 2011, that the ozone hole over Antarctica in 2011 has expanded to almost the same size as the average over the past decade and remains large from a long-term standpoint.
According to the JMA analysis based on satellite data from the National Aeronautics and Space Administration (NASA), the Antarctic ozone hole appeared in August, as usual, and on September 12 it was 25.5 million square kilometers (about 1.8 times the size of the Antarctic continent), which was the largest size this year. This size is almost the same as the average over the past ten years, which shows that the hole has remained large.
Since the concentration of ozone-depleting substances, such as chlorofluorocarbons, has gradually been decreasing, it is predicted that the Antarctic ozone hole will become smaller steadily in the future. However, because formation and development of ozone holes also heavily depend on the temperature of the lower stratosphere (the atmospheric layer about 20 kilometers above Antarctica), there is still the possibility that an ozone hole larger than this year would appear some years due to year-to-year meteorological conditions.
According to the Scientific Assessment of Ozone Depletion: 2010, which was prepared by the World Meteorological Organization (WMO) and the United Nations Environment Programme (UNEP), the size of the Antarctic ozone layer is expected to return to pre-1980 levels in the mid-21st century or beyond.
2010 Ozone Hole Is Third Smallest Since 1990: JMA Reports (Related JFS article)
http://www.japanfs.org/en/pages/030658.html
2007 Ozone Hole Looms over Antarctica, as for the Past Decade (Related JFS article)
http://www.japanfs.org/en/pages/026890.html
Posted: 2012/01/08 06:00:15 AM