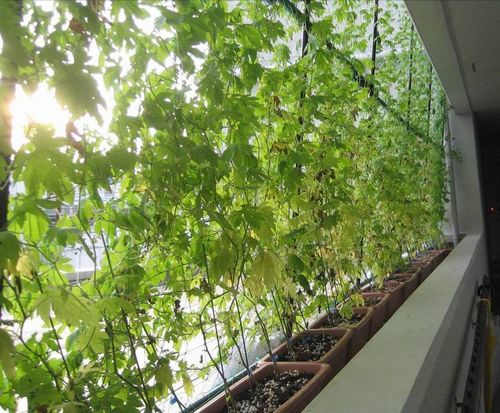 Copyright Kyocera Corp.

During the summer of 2008, Kyocera Corp., a Japanese manufacturer of electronic components and photovoltaic systems, created "green curtains" of plants climbing the outer walls of five factories in Japan, including those in Okaya, Nagano Prefecture and Gamo, Shiga Prefecture. The green curtains of climbing plants, such as morning glory and goya (bitter gourd), absorb carbon dioxide and at the same time help reduce the need for air conditioning by providing a cool covering of the buildings and keeping the heat of the summer sun out.
The company first launched this effort in May 2007, when its Okaya factory joined in with the Green Curtain Project, which was advocated by the city of Okaya, and an environmental citizens' alliance called Eco Life Okaya (both in Nagano Prefecture). In 2008, the Okaya factory expanded its planted area by growing morning glories using 148 planters -- measuring a total length of 140 meters. Thanks to the shady green curtains, the factories rarely needed to use the air conditioning in the mornings between May and September, when the plants were in full growth.
The harvested goya vegetables, which taste like a bitter cucumber, were served in lunch meals at the plants' cafeterias and distributed free of charge to employees. After noticing the green curtains' energy saving and positive aesthetic effects, quite a few employees started similar projects at their homes as well.
According to Kyocera's calculation, the living green curtains at the five sites absorbed approximately 1,600 kilograms of carbon dioxide in the summer of 2008 -- equivalent to the amount absorbed annually by 115 Japanese cedar trees. The company plans to continue with the project in the summer of 2009.

- Kyocera Corp. official website
http://global.kyocera.com/
- Kyocera to Reduce GHG Emissions by 44% from 1990 Levels in Fiscal 2010 (Related JFS article)
http://www.japanfs.org/en/pages/027172.html
Posted: 2009/01/16 6:00:15 AM