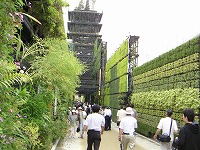 Copyright
A project called the "Bio-lung" has attracted public attention at the 2005 World Exposition in Aichi, Japan, which started on March 25. The Bio-lung is a wall covered with living vegetation, and is the biggest "green wall" in the world, measuring 150 meters long and 15 meters high. The name Bio-lung was intended to communicate that this kind of structure can use the power of plants to function like a lung for cities.
The Bio-lung project is being coordinated by the Organization for Landscape and Urban Greenery Technology Development and was built by 18 companies participating in the Aichi Expo. Over 200,000 individual plants of 200 different species, including vines, colorful flowers and fruits, are being used on the Bio-lung.
Laboratory-style measurements of weather conditions, temperature, and reductions in heat and noise are being conducted as well as observations of plant growth. The data are displayed in real time in an adjacent Bio-lung pavilion, helping make a comprehensive appeal to visitors about the ability of Bio-lung to help improve the urban environment.
The eye-catching appearance of walls covered with plants helps advertise the way they can improve the urban landscape as well as purify the air and lower temperatures. Green walls are expected to contribute to reducing environmental deterioration in urban areas.
Posted: 2005/06/22 10:22:59 AM
Japanese version