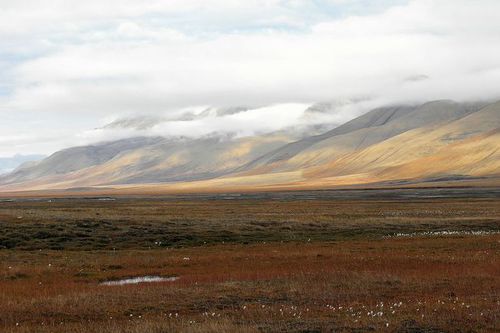 Image by Billy Lindblom. Some Roghts Reserved. 
The Japan Agency for Marine-Earth Science and Technology (JAMSTEC) reported on March 7, 2018, that the average summer temperature in land areas of the Arctic has increased approximately 2 degrees Celsius in the past 15 years, suggesting that summer warming has been progressing in the Arctic along with drying of the soil.
A research group of the Institute of Arctic Climate and Environment Research (IACE) of JAMSTEC conducted a statistical analysis of satellite observation data and land-surface reanalysis data. These data were collected for 15 years from 2002 to 2016 in the Arctic tundra region (about 5,530,000 square kilometers), which accounts for about 80% of land in the Arctic region. For the first time in the world, JAMSTEC showed that the average summer temperature (June to August) in the Arctic tundra region had increased about 2 degrees Celsius, notwithstanding a lack of signs of this warming in the mean annual temperature.
JAMSTEC also revealed that evapotranspiration has been increasing in the region as global warming has progressed. It analyzed data on the amount of the water retention on land after taking out the amount of evaporation and outflow to rivers, etc. The results showed that in the past 15 years, approximately 110 billion tons of water have evaporated from the region, equivalent to a water depth of 2 centimeters.
Summer warming may accelerate the melting of permafrost, leading to emissions of greenhouse gasses that were previously locked in the earth and, consequently, accelerating global warming. JAMSTEC expects the findings of its study to contribute to the investigation of the climate change issues on a global scale including global warming. It plans to conduct a more detailed analysis of global warming mechanisms in the Arctic region and evaluate their impact on wetlands, lakes, and vegetation.